William Paterson University Student Caity Arthur Wins Prestigious 2013 Gracie Award For Outstanding Host of a Student Television Entertainment Show
--Arthur is only New Jersey winner, and one of only 11 student winners nationwide
Caity Arthur, a William Paterson University senior majoring in communication/media production, has been named the recipient of a 2013 Gracie Award, presented by the Alliance for Women in Media Foundation. Arthur is one of 54 local, online, public, and student award winners who will be recognized at an industry luncheon on June 26, 2013 at the Hilton in New York City.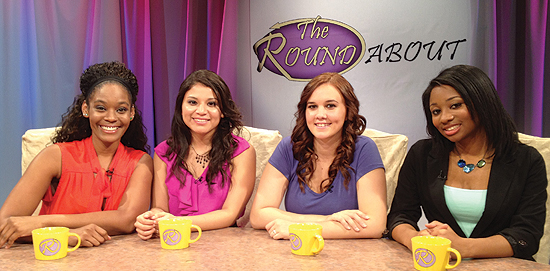 Students Caity Arthur, Wendy Boche, Caitlin Quagliato, and Joy Nickens on the set for "The Roundabout"
The Gracies recognize exemplary programming created for women, by women and about women in all facets of electronic media, as well as individuals who have made a contribution to the industry. The awards program also encourages the realistic and multifaceted portrayal of women in entertainment, news, features, and other programs.
Arthur was named "Outstanding Host – Entertainment/Information, Television-Student Market" for her role as host of The Roundabout, a University-produced television talk show designed to give college women a voice while promoting positive images of women in the media. She is one of 11 student winners, and is the only winner from New Jersey.
"I am extremely honored and surprised to receive this Gracie Award," says Arthur. "It has been exciting to be part of this show and to give women on campus a voice and show them they are not alone in the issues they face during college."
"Caity has been an amazing presence both on and off camera for The Roundabout," says Loretta McLaughlin-Vignier, assistant professor of communication and executive producer of the program. "She has worked very hard preparing for the show to lead the host discussions and guest interviews. She is fearless in revealing her beliefs and allowing the audience to see who she is deep down and show what touches her."
Modeled after ABC-TV's The View, The Roundabout was piloted on campus in fall 2012. Taped in front of a live studio audience, the show includes segments that address a healthy lifestyle, as well as interviews with successful women, particularly University faculty, staff, and alumni. Arthur served as one of the show's four female co-hosts.
Arthur, a resident of Maplewood, is involved with an independent film group, Whiteboard Productions, and serves as vice president of the William Paterson Dance Team. Following her graduation in May 2013, she plans to pursue a career in television and film.
03/22/13