Superstorm Sandy Brings Out the Best in William Paterson Students
Providing relief to those in need in the aftermath of Superstorm Sandy has led many William Paterson students to campus organizations to volunteer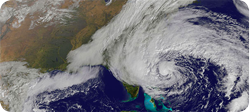 The devastation left behind by the recent storm has provided the impetus for many of the University's students and staff to step up and volunteer to help not just their friends and families, but members of their communities.
"William Paterson students are by nature very generous and caring people particularly in an emergency situation," says John Martone, vice president for student development. "They are responding to the various storm needs in many different ways---some are helping through the Student Government Association, and many through other clubs and organizations on campus. Right now, the needs are so great that they have chosen to not just work with one organization, but have decided to enhance their efforts to achieve greater results in more areas."
The University's Institutional Advancement Office has set up an Emergency Student Relief Fund to help students who have suffered losses because of the storm. "Since its inception, donations have been coming in from alumni from as far away as Hawaii to assist our impacted students," says Pamela Ferguson, vice president for institutional advancement. Anyone interested in supporting this fund can visit wpunj.edu/giving. Students in need of aid should call 973-720-3201.
Upcoming storm relief activities include:
Student Government Association (SGA).
The Student Government Association (SGA), is supporting the work of AmeriCares (www.americares.org) in responding to the emergency needs of those in crisis. The funds raised will help to ensure that medicine, medical supplies, and other humanitarian aid reaches people in need.
• Coin Drive. Over the next several weeks, the SGA, with the assistance of various student club leaders, will hold a Coin Drive to collect relief funds.
• Latino Heritage Committee events. Proceeds from both the SAPB-All-Star Latino Comedy Show (Monday, November 26, 9:00 p.m.) and the LSU Karaoke Night (Tuesday, November 27, 8:00 p.m.) will be donated. Both events will be held in the University Commons multipurpose room.
CHOSEN: The Gender and Sexuality Alliance. The Ali Forney Center (AFC), which cares for the most vulnerable in the LGBT community, suffered a major loss during Superstorm Sandy. Their site in New York City was hard hit and they are trying to run their services at other locations temporarily. Fundraising efforts to help restore the center at a new location began on campus with collections at the 4th Annual Variety Show held last week by CHOSEN and will continue over the next few weeks.
Campus Activities and Student Leadership.
Father English Center. Several activities are being coordinated in an ongoing effort to support the work of the Father English Center of Paterson, which provides direct social services to youth, adults, and families, as well as manages a major food pantry.
As part of the annual Pioneer Leadership Institute's collection and service activities for the Father English Center, leadership classes are collecting nonperishable items and baby products. Donations will be accepted on Friday, November 30 in the University Commons multipurpose room, where they will be sorted and packaged for delivery.
Future Healthcare Professionals Club/Louis Stokes Alliance for Minority Participation – Minority Association of Pre-Medical Students/Biology, Biotechnology Club. These clubs are collecting donations of food, clothes, and toys, which will be sent to charities and individuals that have suffered from the storm. Please bring donations to the drop boxes set up in front of the Dean's Office, College of Science and Health, located in Science Hall East.
11/20/12