William Paterson University Celebrates Homecoming on September 22
A carnival, barbeque, football game, and a tailgating event are among the festivities as the William Paterson University Alumni Association celebrates Homecoming 2012 by welcoming alumni back to the campus on Saturday, September 22.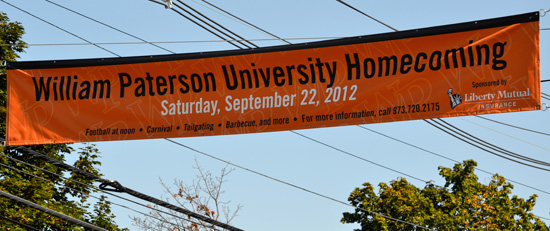 Saturday's events begin with a carnival at 11 a.m. in the practice field on campus. Alumni and their families are invited to join in some old-fashioned fun, including amusements, game booths, popcorn, and cotton candy. Admission is free. A barbeque begins at noon, also on the practice field. Tickets for the event are $10 and are on sale during the carnival.
Alumni are invited to bring friends, fire up the grills, and join fellow alumni for a tailgating event with raffles, contests, and a performance by the band The Defending Champions. Tailgating will be held from 10 a.m. to noon, and from 3 to 5:30 p.m. in Lot 5.
Alumni are also invited to bring their best chili, best chicken wings, and or best dessert and enter the first Pioneer Kick-Off Cookoff. Judging will take place at 3:30 p.m. (after the game) in Lot 5 with special guest judges.
The Pioneer Football Team squares off against Montclair State at noon in Wightman Field. Admission is $8; $5 for alumni with a membership card, seniors, children under 12, visiting school's students with I.D., and William Paterson faculty and staff; and free for William Paterson students with I.D.
Other sports on tap include a women's soccer match at 5 p.m. in Pioneer Soccer Park against Richard Stockton College. Admission is free.
An alumni softball game will be held on Sunday, September 23 at 1 p.m. This annual event is for William Paterson's former student-athletes, and will be held on the Pioneer Softball Field. For additional information about this game, contact Hallie Cohen at cohenh@wpunj.edu or 973-720-3016.
Homecoming 2012 is underwritten, in part, thanks to the generosity of Liberty Mutual. For additional information about Homecoming events, call the University's Alumni Association at 973-720-2175.
09/17/12