Trombonist Jimmy Bosch Joins William Paterson Latin Jazz Ensemble for Jazz Room Concert on February 23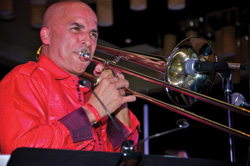 Trombonist Jimmy Bosch will perform with the William Paterson Latin Jazz Ensemble, by William Paterson faculty member Chico Mendoza, on the spring 2014 Jazz Room Series at William Paterson University in Wayne on Sunday, February 23, 2014, at 4 p.m. in the Shea Center for Performing Arts on campus.
Prior to the concert, Bosch will be the guest for "Sittin' In," an informal discussion about jazz, at 3 p.m in Shea Center 101. Admission is free to all Jazz Room ticket holders. Tickets are available in advance at the Shea Center Box Office at 973.720.2371 or wp-presents.org for $15 general, $12 for senior citizens and William Paterson faculty, staff and alumni, $8 non-William Paterson students and free for William Paterson students. There will be an additional $3 charge per ticket purchased on show day.
Born in New Jersey, Bosch began playing the trombone at age 11 and later studied classical music at Rutgers University. In 1998, he made his official debut with the release of "Soneando Trombon". Now a longtime member of the New York jazz and Latin music scenes, Bosch has performed with the Fania All-Stars, Eddie Palmieri and Ruben Blades.
Launched in 1978, the Jazz Room is one of the largest and most prestigious college-sponsored jazz events in the country. Performers include renowned professionals who encompass the complete spectrum of jazz, as well as William Paterson's own student ensembles. The series has won numerous grants from the New Jersey State Council on the Arts for its innovative programming.
# # #
02/07/14