National Scholars to Discuss Future of Higher Education at Conference Hosted by William Paterson University's College of Humanities and Social Sciences
--- Columbia University Professor Andrew Delbanco, recipient of 2011 National Humanities Medal, will provide keynote address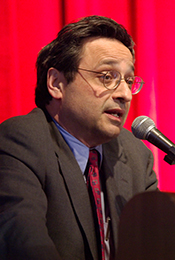 Andrew Delbanco
The importance of core curricula and campus diversity are among the issues to be addressed at "Whose University? The Future of Higher Education in America," a conference conducted by William Paterson University's College of Humanities and Social Sciences on November 14 from 9:30 a.m. to 3:15 p.m. in University Commons Ballroom C on the campus in Wayne. Admission is free and the event is open to the public.
Noted Columbia University professor Andrew Delbanco, recipient of the 2011 National Humanities Medal and hailed by President Obama "for his writing that spans the literature of Melville and Emerson to contemporary issues in higher education," will deliver the keynote address at 11 a.m.
Other scholars scheduled to discuss higher education issues include Susan Lawrence, Rutgers University, New Brunswick; Balmurli Natrajan, William Paterson University; Scarlet Bowen, University of Colorado, Denver; Jeanne Weiler, Hunter College; and Greg Tanaka, Mills College.
The conference is the second annual multidisciplinary event focused on current key issues presented by the University's College of Humanities and Social Sciences. For additional information, call Wartyna Davis, associate dean, at 973-720-2731, or davisw@wpunj.edu.
The College of Humanities and Social Sciences is dedicated to the primacy of the liberal arts in higher education and to the advancement of knowledge. Its programs provide insight into the past, critically examine contemporary issues, and explore answers for the future, while promoting the value of diversity.
William Paterson University, one of the nine state colleges and universities in New Jersey, offers more than 250 undergraduate and graduate academic programs through five colleges: Arts and Communication, Cotsakos College of Business, Education, Humanities and Social Sciences, and Science and Health. Located on 370 hilltop acres in Wayne, the university enrolls nearly 11,500 students and provides housing for nearly 2,700 students. The institution's 400 full-time faculty are highly distinguished and diverse scholars and teachers, many of whom are recipients of prestigious awards and grants from the Fulbright Program, the Guggenheim Foundation, the National Endowment for the Humanities, the National Institutes of Health, and the National Science Foundation.
10/24/13