New Documentary by University Professor Vincent Parrillo on Acclaimed Paterson Sculptor Gaetano Federici to Air on NJTV on April 23
--Film wins award for best documentary at two-day Ridgewood Film Festival
A new documentary by William Paterson University sociology professor Vincent Parrillo on the prominent Italian American sculptor Gaetano Federici, whose many works are located throughout the city of Paterson, received the award for best documentary at the the Ridgewood Film Festival.
The film was shown at Clearview Cinema, in Ridgewood, N.J. on April 17 as part of a two-day film festival where 33 films were shown. Parrillo's film will also air on NJTV on Tuesday, April 23 at 10 p.m.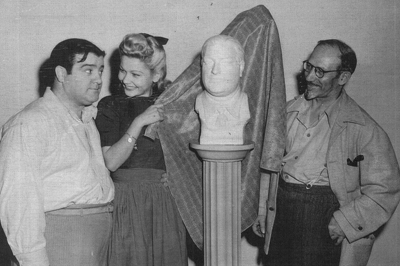 Paterson native Lou Costello views his sculpture created by Gaetano Federici at right.
Parrillo served as author, narrator, and co-producer with Jaroslaw Ziaja of Gaetano Federici: The Sculptor Laureate of Paterson. Federici depicted with historical realism many leading civic and religious leaders of the city between 1904 and 1957, including U.S. Senator Charles Hughes, Rep. James F. Stewart, Attorney General Thomas McCran, Mayors Nathan Barnert and Andrew McBride, Bishop Thomas McLaughlin, Dean William McNulty, and comedian Lou Costello. More than a dozen of the sculptures are within a quarter-mile radius of Paterson's City Hall.
Passaic County Historian Edward A. Smyk and Federici biographer Flavia Alaya served as consultants. The documentary was produced with support from the William Paterson University Alumni Association.
Parrillo is the author of many books and journal articles, some of which have been translated into nine different languages. He was the writer, narrator, and co-producer of two previous documentaries: Smokestacks and Steeples: A Portrait of Paterson, and Ellis Island: Gateway to America. Both were aired on the former New Jersey Network and on other cable stations, and have won awards for excellence in educational programming.
04/09/13