Grand Opening Ceremony for New High-Definition Television Studios Held on November 7
Event included tours of the refurbished facilities that recently underwent a $2.5 million upgrade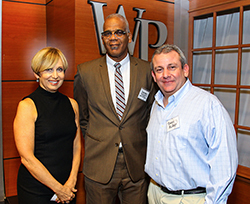 Daryl Moore, dean of the College of the Arts and Communication, with alumni Susan Lisovicz and David Maltese
Successful communication alumni, industry professionals, and current and retired University professors were among the notable guests on Thursday, November 7, as the University held a grand opening ceremony for the new high-definition television studies in Hobart Hall.
Click here to view photos from the event
The event included tours of the refurbished facilities that recently underwent a $2.5 million upgrade. The new two-studio TV complex includes seven high-definition television studio cameras, as well as two identical state-of-the-art, high-definition control rooms. The upgrade now allows students to film, in the studio or in the field, and edit entirely in high-definition format.
11/20/13