Gaelic Storm Concert on February 28 to Benefit Student Emergency Sandy Relief Fund
--A Portion of the Proceeds from this Concert will Benefit the William Paterson Student Emergency Relief Fund for Victims of Hurricane Sandy.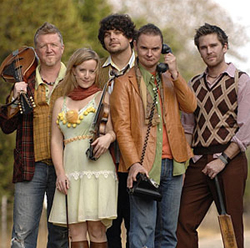 Gaelic Storm
Celtic rock group Gaelic Storm will perform on Thursday, February 28, at William Paterson University in Wayne. The concert will be held at 8 p.m. in the University's Shea Center for Performing Arts as part of its "WP Presents!" series.
Tickets are at $35 Gold Circle, $30 Orchestra/Front Loge and $25 Rear Loge. A portion of the proceeds will benefit the William Paterson University Student Emergency Sandy Relief Fund. In response to Hurricane Sandy, the University has established the Fund to provide immediate relief to students who have suffered devastating losses as a result of the storm.
Gaelic Storm volunteered to assist with the post-Sandy recovery effort and before the show will meet some of the students who will receive funding.
Since their debut in 1996, Gaelic Storm has been performing traditional Irish and Scottish music, as well as original Celtic and Celtic rock hits. The band received instant fame after their cameo in the 1997 blockbuster Titanic and has continued to produce foot-stomping Celtic albums for their life-long fans. Gaelic Storm is currently comprised of Patrick Murphy, Steve Twigger, Ryan Lacey, Peter Purvis and Kiana Weber. Their ninth and most recent album, Chicken Boxer, was released on July 2012.
The performance will include Celtic classics as well as the group's #1 Billboard World Album hits. Gaelic Storm, considered one of the world music scene's most preeminent Celtic bands, assures their audience that they will see an unforgettable show each time they take the stage.
"If you see our show, we have fast singing-and-clapping songs. We have ballads. We have instrumentals. We tell stories. A variety of things can happen," says Steve Twigger, one of Gaelic Storm's lead vocalists and guitar, bouzouki and mandolin player.
For additional information or to purchase tickets, please contact William Paterson University's Shea Center Box Office at boxoffice@wpunj.edu, call 973.720.2371 or visit www.wp-presents.org.
# # #
02/15/13