William Paterson University to Host Collage!, a Concert Featuring Music Faculty and Students, on April 26
Collage! is a benefit concert to raise funds for the music department's endowed music scholarship fund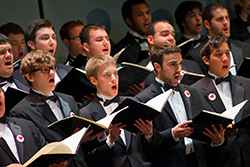 William Paterson University Music Department will showcase the musical talents of its faculty and students, from jazz to classical, at Collage!, a gala concert event on Saturday, April 26, in the Shea Center for Performing Arts on campus at 7:30 p.m.
The concert will include performances by the University's distinguished faculty and student musicians. The program will include the Wind Ensemble performing "The Hounds of Spring—A Concert Overture for Winds" by Alfred Reed with J. Craig Davis, conductor; the Concert Choir, under the direction of Stephen Bryant, performing selections from Vivaldi's "Gloria" and Handel's "Messiah;" the Symphony Orchestra will perform Rossini's "William Tell Overture" under the baton of Sandra Dackow; and the Jazz Orchestra, directed by David Demsey, will perform a medley arranged by Akihiro Yamamoto of "More Than Once" by Thad Jones and "Eastern Joy Dance" by Mulgrew Miller.
William Paterson student chamber ensembles will include the Pop Music Vocal Ensemble, the Flute Ensemble, the Percussion Ensemble, the Chamber Singers, the Brass Quintet, the Saxophone Quartet and the Jazz Combo.
William Paterson music faculty members Gary Kirkpatrick, pianist, will perform "Mephisto Waltz No. 1" by Liszt, and Stephen Bryant, bass-baritone, will perform "Ecco il mondo" from Boito's "Mefistofele," with Warren Helms, pianist.
Collage! is a benefit concert to raise funds for the music department's endowed music scholarship fund.
Tickets for the concert are $25 general admission; $20 seniors and William Paterson community; and $10 for all students. For additional information, or to purchase tickets, contact the Shea Center Box Office at 973-720-2371 or purchase online at wp-presents.org.
# # #
03/28/14