University Receives $150,000 Gift to Establish Center for Chinese Art on Campus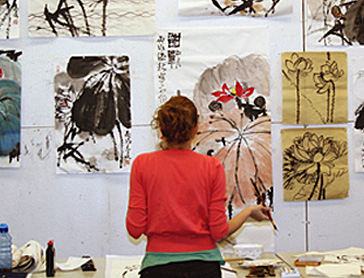 Margaret Lam and David Yen of Montville have donated $150,000 in gifts and pledges to William Paterson University to establish a Center for Chinese Art on campus over the next two years. The gift will support the University's Chinese art curriculum, provide students with opportunities to learn Chinese art techniques, and cultivate a deeper understanding between the United States and its Chinese residents.

Margaret Lam is president and CEO of Prosperity Resources Development International, Inc., of Irvington, an import and export company focused on Chinese foods and goods. Her husband, David Yen, is a retired vice president of Chase Manhattan Bank.

"The Center will give our students the opportunity to deepen and expand their understanding of Chinese arts and culture," says University President Arnold Speert. "In today's global society, cultural outreach is increasingly important to the comprehensive education of our students."

Funding will support several new initiatives including courses in Chinese art, classes in traditional techniques such as ink painting and calligraphy, Chinese art exhibits, visiting artists exchanges, a new Web site dedicated to the Center, and the ongoing Summer Art in China program. These initiatives will be part of a six-year project, to be developed in three phases.

Zhiyuan Cong, professor of art at William Paterson, and a renowned artist who works in both traditional and contemporary Chinese art, is the coordinator of the Center on campus and works closely with the donors who are honorary directors. They are very involved in the arts and in promoting Chinese art and culture.

"All my life I have worked on the ideal of bridging Chinese and American culture through art," says Margaret Lam. "Through the Center for Chinese Art at William Paterson University, this dream can be fulfilled. I look forward to working with Professor Cong to make the Center a success, not only for students but also for the community."

David Yen says, "Margaret and I are very impressed by the activities at William Paterson and with Professor Cong. The Center gives the University's students a place to understand and appreciate the origins of Chinese art, which has a very long tradition, and has been passed down from dynasty to dynasty. We look forward to the success of the Center."

Cong believes that it "is easier to understand a culture through its art. The Center will help the University to enhance its traditional Chinese art program, and will enable us to educate our art students in both Eastern and Western practice and theory. It will be a base dedicated to education, research, promoting Chinese culture to the community, and developing special programs and exhibits."

Lam, who was born in Hong Kong and immigrated to the United States in 1967, has a long and distinguished background in community activism and philanthropy. She has supported many efforts to preserve Chinese history and promote Chinese culture.

She is the founder and chair of the New Jersey Chinese Festival, Inc., and Yen serves as vice general chairperson. The festival is designed to preserve Chinese history and culture. Lam is past president of the Edison Chinese American Lion's Club of New Jersey, where she currently serves as treasurer, and served five terms as president of the Northern New Jersey Chinese Association, among involvement in numerous other community organizations.

Yen is secretary and past president of the Edison Chinese American Lions Club, and president of the Songbird Chorus Group in New Jersey. He and Lam are also board members of the New Jersey Chinese Tennis Association.

William Paterson University, one of the nine state colleges and universities in New Jersey, offers 43 undergraduate and 20 graduate programs through five colleges: Arts and Communication, the Cotsakos College of Business, Education, Humanities and Social Sciences, and Science and Health. Located on 370 hilltop acres in Wayne, the University enrolls approximately 10,400 students and provides housing for nearly 2,300 students. The institution's 379 full-time faculty are highly distinguished and diverse scholars and teachers, many of whom are recipients of prestigious awards and grants from the Fulbright Program, the Guggenheim Foundation, the National Endowment for the Humanities, the National Institutes of Health, the National Science Foundation and the American Philosophical Society.
08/13/09