William Paterson University to Hold Groundbreaking Ceremony for Construction of New Academic Building on October 10 at 10 a.m.
--Project is partially funded by the "Building Our Future" Bond Act
William Paterson University in Wayne will hold a groundbreaking ceremony on Thursday, October 10, 2013 from 10 to 11 a.m. to celebrate the beginning of construction on a new academic building. The ceremony will be held near the construction site adjacent to Raubinger Hall and Speert Garden and is the first step in a long-range plan to modernize facilities in the main academic core of the campus.m The $40 million project will be funded in part by $30 million "Building Our Future" Bond Act.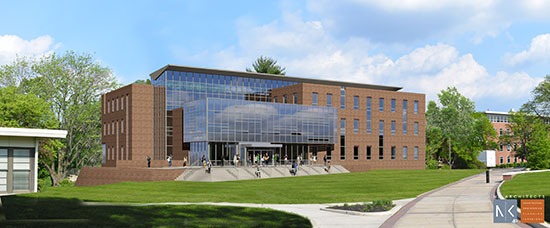 The University is building a 78,000-square-foot state-of-the-art teaching and research facility housing 16 general-use classrooms as well as specialized classrooms and clinical spaces for the University's well-established and expanding programs in nursing, communication disorders, and public health. Among the specialized clinical spaces will be an expanded Nel Bolger, RN Nursing Laboratory and the University's Speech and Hearing Clinic. Completion is slated for 2016.
Reporters and photographers may park in the Visitors Lot, accessible via Entry 2 on Pompton Road. Click here for a map of the campus.
For additional information, contact Phillip Sprayberry, media relations coordinator, at 973-720-2950.
10/03/13