Three University Students Win TD Ameritrade Scholarships; Ring NYSE Closing Bell on August 21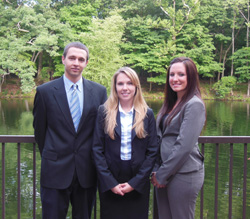 Andrew Milling, Kayla-Lynn Kasica, and Kelly McNerney
Three William Paterson University financial planning majors have been invited by TD Ameritrade Institutional to ring the closing bell at the New York Stock Exchange on Wednesday, August 21 at 4 p.m. The ceremony will be televised live on the CNBC program Closing Bell.
The three students—Kelly McNerney of Haskell, Kayla-Lynn Kasica of Garfield, and Andrew Milling of Succasunna—are among ten students from across the country who have been awarded $5,000 TD Ameritrade Institutional NextGen Scholarships to be applied to tuition for the 2013-14 academic year. William Paterson was the only university with three winners. The students were selected based on academic achievement, a personal statement and a letter of recommendation.
The closing bell ceremony will cap a full day hosted by TD Ameritrade Institutional that includes a tour of the New York Stock Exchange and the Museum of American Finance, as well as interviews with various news media.
TD Ameritrade, one of the leading custodians for financial planners, teamed with the industry group NextGen to sponsor the award. NextGen is comprised of Financial Planning Association members who are industry leaders under the age of 35. The scholarship is designed to encourage talented college students to enter the financial planning profession, which is expected to grow by more than 30 percent over the next decade.
Since 2010, students from the University's financial planning program have garnered top awards in national competitions, including second in the 2012 National Association of Government Defined Contribution Administrators Retirement Quiz Bowl, third in the 2012 Financial Service Professionals National Industry Issues Competition (and first in the oral presentation), tied for second in the 2011 National Financial Planning challenge, and first in the 2010 National Financial Planning Challenge. In 2012, the program was recently rated among the top ten financial planning programs in the United States by Financial Planning Magazine.
# # #

08/20/13