University Observes Veteran's Day
The University honored all veteran students, faculty, and staff who have bravely served our country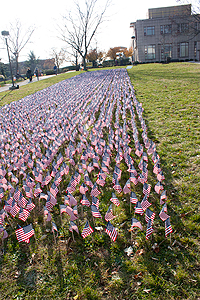 6,500 American flags in Zanfino Plaza
The University's November 12 observance of Veteran's Day began in Zanfino Plaza with the planting of more than 6,500 American flags which represented service members who have been killed in action since 9-11-2001 in Operation Iraqi Freedom and Operation Enduring Freedom, and continued with a lunch for veterans hosted by University President Kathleen Waldron in cooperation with the Office of Veteran Affairs. The annual event recognizes and honors all veteran students, faculty, and staff who have served our country.
A national roll call ceremony included the reading of a New Jersey casualty list of all killed in action (K.I.A) soldiers along with names of individuals who were directly known by William Paterson students. Included with this ceremony was a performance by the William Paterson Gospel Choir under the direction of Professor Michael Butler. Jymal Dawson sang the National Anthem and Amazing Grace.
During the event, the Student Veteran Organization unveiled its newest addition to the campus: a life-size Bronze Fallen Hero Battle Cross which is planned for display once the club has established a campus spot to adopt.