William Paterson University President Kathleen Waldron Wins 2013 Garden State Green Award
Kathleen Waldron, president of William Paterson University, has won the 2013 Garden State Green Award for the University's strong commitment to sustainability.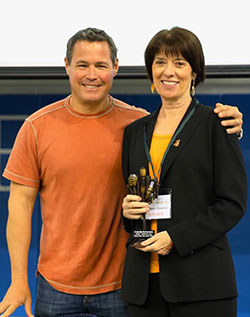 President Kathleen Waldron with Jeff Corwin, Animal Planet host and leading conservationist
Kathleen Waldron, president of William Paterson University, has won the 2013 Garden State Green Award for "Individual in Education." The Garden State Green Awards, sponsored by Prudential and the Star-Ledger, was presented on Saturday, May 18 at the seventh annual Garden State Greenfest at Kean University. The awards honor individuals and organizations that have made a significant contribution to the environment through preservation, reclamation or conservation activities; advocacy and pursuit of "green" lifestyles or business practices; or support or development or green/sustainable energy or energy conservation.
Waldron was nominated for her commitment to sustainability through formal policy and practical implementation. William Paterson University's Strategic Plan 2012-22, adopted under her leadership, includes a pledge to "Make the University a fully green institution" within the next ten years. The University is dedicated to protecting and sustaining the environment through institutional renewal initiatives, green facilities management, and curricular integration.
The University's commitment to clean energy efficiency is highly visible with its elevated solar array, currently one of the largest solar energy installations at a university in the nation. William Paterson is moving forward with the placement of solar panels on the roofs of all suitable buildings. When completed, the combined installation will provide more than 50 percent of the University's daytime electrical demand. William Paterson also has reduced greenhouse gas emissions by 30 percent since 2007 and Waldron, who was appointed president in 2010, aims to advance these efforts to achieve a 50 percent reduction by 2020. The University seeks to achieve carbon neutrality by 2050; based on actual reductions, this goal will be achieved by 2030.
Since 2003, William Paterson University has reduced electrical consumption by more than 30 percent and natural gas consumption by more than 50 percent, while the size of the physical plant has increased by 16.5 percent. More than one-quarter of energy purchases come from renewable sources; a recently completed energy audit of 15 buildings provides recommendations for further improvements to building efficiency.
Waldron also advocates an academic focus on sustainability, as well as personal environmental stewardship among students, faculty, and staff. She supported the formation of a bachelor's degree program in environmental sustainability, launched in 2012. This degree unites areas of tangible study and research and includes courses in environmental science, biology, chemistry, mathematics, law, political science, and economics. Graduates will be prepared with the interdisciplinary skills needed for careers in sustainability to meet the growing demands in academia, business, and government. She encourages integration of sustainability into interdisciplinary curricula and club activities.
05/14/13