Jessica Fellowes to Present an Insider's View of "Downton Abbey" at William Paterson University on February 7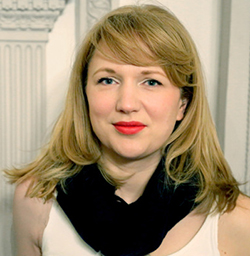 Jessica Fellowes, niece of "Downton Abbey" writer and creator Lord Julian Fellowes
Jessica Fellowes, niece of "Downton Abbey" writer and creator Lord Julian Fellowes, will present an insider's view of "Downton Abbey" at 7:30 p.m. on Friday, February 7, at William Paterson University in Wayne. The performance will take place at the University's Shea Center for Performing Arts on campus.
Tickets are available at the Shea Center Box Office in advance at 973.720.2371 or wp-presents.org for $25 general admission. William Paterson University students may attend free of charge.
"Downton Abbey" is an international hit series about a British family—the Crawleys and their servants—living in the era of King George's reign. The drama incorporates realistic costumes, sets and happenings from that time period.
Fellowes graduated with a degree in philosophy from the University of Edinburgh. She has worked for publications such as The Mail on Sunday, Country Life magazine, The Daily Telegraph, Sunday Times Style and The Lady. Fellowes has also written books that include "The Chronicles of Downton Abbey," "The World of Downton Abbey," and "Build a Business from Your Kitchen Table." Her work has been featured on The New York Times bestseller list.
For additional information, please call the University's Shea Center Box Office at 973.720.2371 or visit wp-presents.org.
# # #
01/16/14