Scott J. Hofsess '92: Managing the Business of Science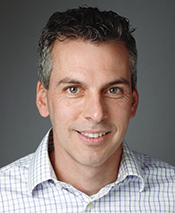 Scott Hofsess '92
By Barbara E. Stoll '93, M.A. '94
Developing drugs that will be used to treat various forms of cancer in adults and children is Scott Hofsess's life's work. As director of U.S. clinical development and medical affairs–oncology for Novartis Pharmaceutical Corporation, one of the largest global pharmaceutical companies, he currently manages the operational activities for seven concurrent oncology clinical development programs, among other responsibilities.
In an industry where drug trials can take decades to win U.S. Food and Drug Administration (FDA) approval before a drug can be offered to address patient needs, Hofsess and his team of medical directors, scientists, and investigators recently won government approval for Afinitor®, used in the treatment of advanced breast cancer, after just four years of clinical trials.
"I work with a team that includes thirteen scientists to operationalize the science behind specific compounds like Afinitor® and move them through the different phases of clinical development to gain approval from the FDA," Hofsess says. "I love what I do. I never know what to expect when I walk in. With such a large team there's always something going on: finding compounds, working with the four medical directors, always trying to move things forward."
Despite the complexities of drug trials, he is already engaged in the development of two new compounds which he believes "might be a better mechanism of action" for the future. "I'm fortunate to be able to do so," he says.
Hofsess, who graduated in 1992 with a bachelor's degree in biology and a minor in chemistry, is also an alumnus of the University's rigorous biopsychology honors program. While on campus, he worked closely with professors Martin Hahn and Robert Benno, directors of the program.
"Without the biopsychology honors program, I wouldn't be where I am today," he says. "Working in that scientific environment, particularly in the mouse lab, combined with the instruction from professors Hahn and Benno on how to run experiments, and to investigate what works and what doesn't work in the lab, was invaluable. At a smaller institution like William Paterson, students get much more hands-on experience. My work in the mouse lab led directly to my first job in pre-clinical animal pharmacology at Merck."
Hofsess stays connected to the University by reaching out to students. He invites them to lunch to talk about career opportunities in pharmaceutical research. "I talk to them about the opportunities that are open to them here in New Jersey to work in a lab or in clinical research.
Although there is no clearly defined career path into research, it's good for the University and the state for them to stay here. There is an enormous amount of talent here, and it's important to keep the companies in New Jersey."
11/22/13