William Paterson University in Wayne Holds Groundbreaking Ceremony for Construction of New Academic Building
--Project is partially funded by the "Building Our Future" Bond Act
William Paterson University in Wayne held a groundbreaking ceremony on October 10, 2013 to celebrate the beginning of construction on a new academic building. The first step in a long-range plan to modernize facilities in the main academic core of the campus, the $40 million project will be funded in part by $30 million from the "Building Our Future" Bond Act.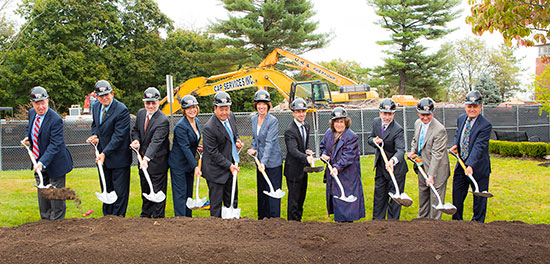 "This new facility is a very exciting initial step in our academic zone master plan, as we seek to upgrade the main instructional facilities on campus in support of greater enrollments and more research on behalf of faculty and students," said Kathleen Waldron, president of William Paterson University. "It is a tangible example of our commitment to provide our faculty and students with state-of-the-art facilities designed to support our superior academic programs focused on teaching and research. It also reinforces the important role William Paterson University plays as a provider of health sciences education in New Jersey and in the United States. "
The building will be a 78,000-square-foot teaching and research facility housing 16 general-use classrooms that will serve a minimum of 4,000 students per semester. It will also feature specialized classrooms and clinical spaces for the University's well-established and expanding programs in nursing, communication disorders, and public health. Among the specialized clinical spaces will be a greatly expanded Nel Bolger, RN Nursing Laboratory, which will include expanded and updated patient simulation laboratories to provide enhanced clinical training.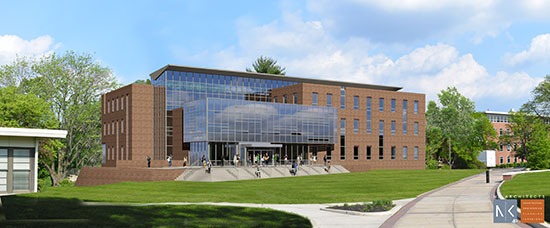 In addition, the University's Speech and Hearing Clinic. which provides the community with a full range of diagnostic and therapeutic services for communication disorders, will be located on the building's lower level, with a separate entrance and dedicated parking for clinic clients. The clinic will be a state-of-the-art facility with the latest digital monitoring technology and additional therapy rooms to meet the growing need demand for the clinic's services. In addition, faculty and students will benefit from dedicated research spaces for communication disorders, nursing, and public health research.
The front of the building will feature a dramatic two-story glass façade. In addition, a terrace on the building's upper level will feature outdoor seating overlooking Speert Garden, as well as an adjacent "green roof" that will be planted with grass. In line with the University's commitment to sustainability, the building will be designed for efficiency, and the University will seek LEED Gold certification from the U.S. Green Building Council.
Completion is scheduled for 2016.
10/10/13