Gandhian Forum For Peace and Justice at William Paterson University Presents Lecture by Award-Winning Journalist Juan González on April 10
--Free Public Showings of Harvest of Empire, a Documentary Film Based on González's Book, on April 2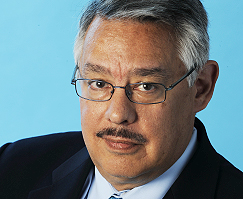 Juan González
Juan González, a journalist for more than 30 years, will present a lecture about immigration and U.S. foreign policy on Wednesday, April 10, 2013, at William Paterson University in Wayne, N.J. as part of the Gandhian Forum for Peace and Justice. The lecture will be held from 12:30 to 1:45 p.m. in University Commons Ballroom C. The public is invited to attend and admission is free.
In his talk, González will discuss the immigrant experience and its challenges, and analyze the connection between immigration and U.S. foreign policy in Latin America.
Following his talk, from 2 – 3:15 p.m., there will be a panel discussion by seven students from seven different majors. They will comment on his remarks with a response by González at the end.
A public showing of the film Harvest of Empire, a powerful documentary based on González's book that exposes the direct connection between the history of U.S. intervention in Latin America and the current immigration crisis, will be shown on April 2 from 11 a.m. to 1 p.m., and again from 7 to 9 p.m. in the Cheng Library Auditorium. The public is invited and admission is free. Refreshments will be provided.
González has been a journalist for more than 30 years and a staff columnist at the New York Daily News since 1987. He is a two-time recipient of the George Polk Award for commentary (1998 and 2010) and is also the co-host of the award-winning daily radio and television news program, Democracy Now! He is a founder and past president of the National Association of Hispanic Journalists.
He is the author of four books: Fallout: The Environmental Consequences of the World Trade Center Collapse; Harvest of Empire: A History of Latinos in America; Roll Down Your Window: Stories of a Forgotten America; and News for All the People: The Epic Story of Race and the American Media, coauthored with Joseph Torres.
William Paterson University's Gandhian Forum for Peace and Justice seeks to engage high school, college, and university students and teachers and community members in innovative and practical ideas, actions, and programs that promote peace and justice through cooperative engagement, dialogue, and respect for opposing views and opinions. Previous lecturers have included Doug Henwood, editor and publisher of Left Business Observer; Jo Comerford, executive director of the National Priorities Project; Chris Hedges, Pulitzer Prize-winning journalist; Rabbi Michael Lerner, editor of Tikkun; Aftab Seth, India's former ambassador to Japan, Vietnam and Greece, and Norman Finkelstein, author of What Gandhi Says About Nonviolence, Resistance and Courage.
This program is co-sponsored by the William Paterson Latin American and Latino/a Studies-Tinker Lecture Series, the Race and Gender Project, the departments of Africana World Studies, History, Political Science, and Women's and Gender Studies, the Asian Studies Program, the College of Humanities and Social Sciences, the Cotsakos College of Business, the College of Education, the Ana M. Gomez memorial film series, the William Paterson Alumni Association, and the Office of the Provost.
For additional information, contact Steve Shalom at 973-720-4344 or shaloms@wpunj.edu.
03/18/13