William Paterson University Radio Station WPSC-FM One of Five Stations Nominated for National Marconi Award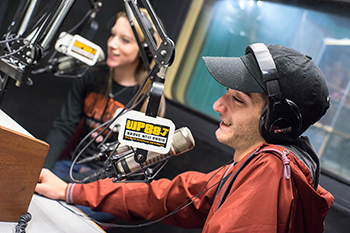 Students Brianna Testa and Nick Gomez
William Paterson University's student-run radio station, WPSC-FM (88.7) in Wayne, NJ, is one of five finalists in the nation nominated for the 2017 Marconi Award for "Noncommercial Station of the Year."

The National Association of Broadcasters (NAB) announced the finalists for the 2017 Marconi Radio Awards on July 10, honoring radio stations and on-air personalities for excellence in broadcasting. The winners will be announced on September 1, 2017 at the NAB Marconi Radio Awards Dinner and Show in Austin, Texas. In addition to WPSC-FM, other nominees include KPCW-FM, Park City, UT; WRHU-FM, Hempstead, NY; WSDP-FM, Plymouth, MI; and WMSC-FM, Montclair, NJ.
"I am delighted that the students at WPSC are being recognized with this prestigious nomination, continuing an incredible year that includes winning "Best Station in the Nation" at the Intercollegiate Broadcasting System (IBS) Awards in March," says Rob Quicke, associate professor of communication and general manager of WPSC-FM, also known as WP 88.7 FM Brave New Radio. "I'm proud that their enthusiasm and hard work is being recognized."
William Paterson's WP 88.7 FM has won a stream of awards, including being named Best Radio Station in the Nation (among institutions with more than 10,000 students) by the Intercollegiate Broadcasting System (IBS) three times in the last six years. The station was previously nominated for the Marconi Award in 2015.
07/11/17