William Paterson University Students to Meet Business Leaders from New Jersey and New York City Top Industry Sectors at Cotsakos College of Business Boot Camp from July 31 to August 3, 2017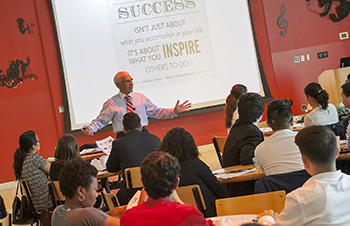 More than 100 William Paterson University undergraduate and graduate students are expected to attend the University's four-day intensive business boot camp to meet and interact with leaders from some of New Jersey's and the metropolitan area's top industry sectors, including banking, food, retail and healthcare, from July 31 to August 3, 2017 in the 1600 Valley Road Café. The Cotsakos College of Business event is free and will include an opportunity for participating students to qualify for and receive scholarships.
Known as the Crux of Industry Niche (COIN) Boot Camp, the event will feature 14 accomplished professionals, nearly half of whom are alumni, who will discuss the inner workings of their industry, their firm, and their own personal career path. Students are encouraged to use #WPCoin2017 to share their COIN experience.
"Students who attend COIN benefit tremendously from the opportunity to meet so many talented industry leaders and gain their insights," says Siamack Shojai, dean of the Cotsakos College of Business. "It is a wonderful way for students to learn about these industries; and likewise, it is a great opportunity for business leaders to meet our students."

COIN 2017 will focus on five different industry sectors: healthcare and pharmaceuticals; food supply chain; retail and e-marketing/social media; banking/financial services; and commercial real estate. At its conclusion on Thursday afternoon, students are invited to a networking barbeque during which donor scholarships recipients will be announced.

This year's keynote speaker will be William Paterson alum Jeffrey Millar '80, managing director in Global Subsidiary Banking at MUFG, one of the world's largest financial institutions. Other business leaders scheduled to participate are:
Marlon Addison, manager of Group Sales — Customer Relationships, Horizon Blue Cross Blue Shield of New Jersey
Alessandro (Alex) Conte '03, executive vice president and principal at Blau & Berg Company
Joseph Fantozzi '85, vice president of retail and membership development at Allegiance Retail Services, LLC
Russell Gasdia, founder and CEO of Russell Alexander Advisors, LLC
Robert Hartnett '84

,

Certified Financial Planner (CFP), managing director – New York at Lenox Advisors, Inc.
Howard Hook, CFP, CPA, partner with EKS Associates and its affiliate, Access Wealth Planning
Tracy McBride '89, manager, financial reporting and A/R, Basin Electric Power Cooperative, Bismarck, North Dakota
Mike Murphy, senior vice president, QuickChek
Victor Ortiz, vice president, Digital Product Management at Toys R Us
Erika Safran, CFP, investment advisor, and founder of Safran Wealth Advisors
Jennifer Santiago, talent acquisition manager at Enterprise Rent-A-Car
Saul Simon '84, CFP, president of Simon Financial Group and television host of "SIMONSAYS Manage Your Money"
Daren Stevens, senior recruiter, Amazon
Luis Tejada, industry leader with expertise in ethnic food sales and the independent supermarket industry of New York City
LeRoy Wilde '86, senior managing director at Cushman & Wakefield
The Cotsakos College of Business offers many experiential learning opportunities to its students including internships, business practicums, professional enrichment workshops, case competitions, and mentoring programs, among others.
07/20/17