Environmental Science Professor Encourages Her Students to Get Their Hands Dirty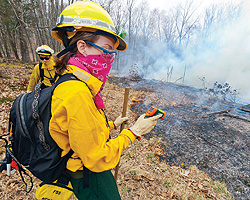 Jennifer Callanan at a recent controlled burn as part of her research
Jennifer Cllanan, assistant professor of environmental science, loves taking her students on field trips so the students can get up close to the subject at hand and learn firsthand that research in the field is optimal for learning.
A trained firefighter with the New Jersey Forest Fire Service, Callanan's research into local soils and fires often takes her into the field to investigate what fires might mean to soil properties and function.
A recent excursion into Warren County found the professor and her students digging for soil samples in a recently burned area.
"I have students with me continually working on projects that have developed from our research," she says. "On this project, two students came with me to collect samples. We used these to conduct particle size analysis and x-ray diffraction to look into mineral alterations. This investigation yielded some interesting results. From that we developed a lab model where we recreated the soil conditions in a laboratory setting."
Another set of students would continue that research trying to find the mechanism of change in the soil that was on the site.
"At least two students work on each project," Callanan reports. "This is what I like to do with my students—have them work together so they learn from me and each other. These students then work with the next two, and so on."
Her students have had the opportunity to present their research at scientific conferences. This semester, two students, John Dorval and Alexandra Lucas, presented research on the weathering of soil chlorite, a mineral found on the burned site, at the Association of American Geographers annual conference.
"It's exciting to see the students getting involved in the research, she says. "That's what keeps me going. It makes everything worthwhile."
06/07/12