Curiosity: Is There Life on Mars? Lecture on Saturday, April 28 as Part of Global Astronomy Month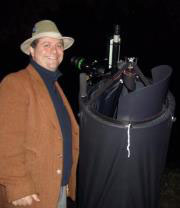 Jason Kendall
UPDATE 2:40 p.m.: The clouds have moved in, so we won't be able to do stargazing tonight. However, the public lecture on Mars will start at 7:30 p.m. in Science Hall East 2064. This public talk will be suitable for kids ages 10 and up (as well as adults). There will be coffee, snacks and free NASA posters, handouts and giveaways at the event. The public talk will last one hour, and you'll get a chance to ask Professor Kendall about Mars, space and anything else astronomy.
William Paterson University in Wayne, N.J. will take part in Global Astronomy Month by hosting an evening of stargazing at Camp Veritans from 7:30 to 10 p.m. The event is being held as part of Global Astronomy Month's 2012 Global Star Party.
The public is invited to come and see stars, nebulae and planets through a telescope. Saturn rises in the east at 9:30 p.m. with its rings putting on a beautiful show.
Jason Kendall, NASA/JPL Solar System Ambassador for New York City, and an instructor of Introduction to Astronomy at William Paterson, will provide telescopes for viewing. Local area amateur astronomers are also invited to bring their telescopes. Children and families are welcome.
In the event of clouds or rain, the outdoor program will be cancelled and Kendall will give a lecture titled "Curiosity: Is There Life on Mars?" He will answer questions about space, astronomy and NASA. The presentation would take place in Science Hall East Room 2064. Please call 973-720-3458 to check the status of the event if weather conditions seem questionable.
Visitors are invited to enter Camp Veritans via Campus Entry 1 off Pompton Road and park in the Camp Veritans lot. For directions, please go to http://www.wpunj.edu/maps.
The event is free. For general inquiries, contact S.H. Chung at ChungS@wpunj.edu. To find out about weather-related changes, please call the event hotline at 973-720-3458.
04/20/12