Women's Center Presents Awards
Six women honored with Women of Vision Awards.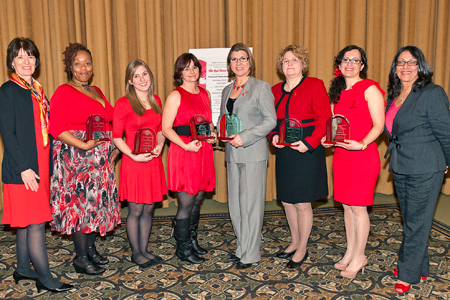 The University's Annual Red Dress Dinner, part of the annual celebration of Women's History Month, sponsored by the Women's Center, featured the presentation of the Women of Vision Awards to recognize women in the community who are outstanding citizens, positive role models, skillful leaders who inspire those around them, and exemplify commitment to service and education.
With this year's recipients are (far left) University President Kathleen Waldron and (far right) Librada Sanchez, director of the Women's Center. The recipients are (from left) Stephanie Quackenbush-Brown, Women's and Gender Studies; Laura Jo Rieske, student, Class of 2012; Det. Sgt. Ellen DeSimone, University Police; New Jersey Senator Nellie Pou; Dr. Edna Cadmus'76, vice president, Patient Care Services, Englewood Hospital; and Dr. Eliana Antoniou, associate professor, department of mathematics.
04/16/12