University Student's Alternative Spring Break Experience Leads to New Campus Club
This student chose to work and help others during his spring break and headed south.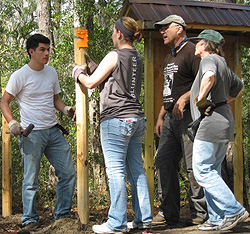 Freshman Eric Dolan had been interested in pursuing an alternative spring break experience since high school, so he jumped at the chance to spend a week recently in Biloxi, Mississippi working at the Coastal Mississippi Land Trust, a natural habitat almost completely destroyed by hurricanes like Katrina. He was one of 58 students from across the country who participated in the effort through the Alternative Spring Break Program of the United Way of South Mississippi.
"It was an amazing experience," he says of the week he spent rebuilding a hiking trail for the blind, as well as pitching in at other projects in the area. "The program really touched every area of the community there—I can't fathom how many different lives we touched by our efforts."
Dolan's week in Mississippi also helped him to realize how much need there is in northern New Jersey, which has spurred him to form a new campus club, WPUnited, which is the first student United Way chapter in New Jersey.
"The club will provide students with opportunities to volunteer through day trips on weekends to locations that are identified by the United Way in Passaic and Bergen counties,' he explains. "There is a lot of need right here in our own communities, and I'm looking forward to getting a lot of students involved."
Dolan, who is majoring in broadcast journalism and public relations, is a member of the Honors College. He also serves as music director for WP88.7 Brave New Radio, the University's student-run radio station, for which he hosts a weekly show on Friday evenings. Despite his busy schedule, he is dedicated to volunteering, and plans to return to Biloxi this summer. He is also thankful for the Trustee Scholarship and Honors College Scholarship he receives to pursue his studies at William Paterson.
"It was the generosity this school showed me that made me want to give back, and help out others who are less fortunate than me," he says. "When you go to college, this is now your life to lead. It's important to go forward and do something that is meaningful."
04/16/12