Feminist and Social Activist Gloria Steinem to Speak on May 4 as Part of William Paterson University's Distinguished Lecturer Series
An iconic and inspiring voice, she is one of the most visible symbols of the women's movement.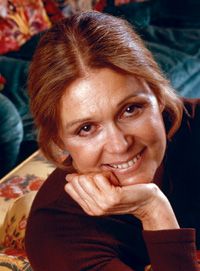 Gloria Steinem
Gloria Steinem, the writer, editor, and social activist, will discuss the progression of feminism in a candid look at our understanding of gender roles on Friday, May 4, 2012 at 7 p.m. as part of the 32nd season of the Distinguished Lecturer Series at William Paterson University in Wayne.
Tickets for the lecture are $20 general public, $15 William Paterson University alumni, faculty and staff and free to William Paterson University students with valid ID. To purchase tickets, please call the Shea Center Box Office at 973-720-2371 between 10 a.m. and 5 p.m. or purchase online at www.wpunj.edu/dls. The lecture will take place in Shea Center on the campus in Wayne; please allow ample time for parking.
Steinem, who co-founded Ms. magazine in 1972 and remains one of the most visible symbols of the women's movement, will reflect on her involvement in the social movements of the past four decades and will address the central issue of how to foster a national spirit of cooperation to continue the advancement of the rights of all citizens, especially children.
Steinem served as editor of Ms. magazine for 15 years, and continues to serve as consulting editor. In 1968, she had helped to found New York magazine, where she was a political columnist and wrote feature articles. As a freelance writer, she was published in Esquire, Glamour, and The New York Times Magazine, and as well as for publications in other countries. She has produced a documentary on child abuse for HBO, a feature film about the death penalty for Lifetime, and been the subject of profiles on Lifetime and Showtime.
Her books include the bestsellers Revolution from Within: A Book of Self-Esteem, Outrageous Acts and Everyday Rebellions, Moving Beyond Words, and Marilyn: Norma Jean, on the life of Marilyn Monroe. Her writing also appears in many anthologies and textbooks, and she was an editor of Houghton Mifflin's The Reader's Companion to U.S. Women's History. She as won numerous awards for her writing, including several National Magazine Awards, the Lifetime Achievement in Journalism Award from the Society of Professional Journalists, the Society of Writers Award from the United Nations, and most recently, the University of Missouri School of Journalism Award for Distinguished Service in Journalism.
Steinem helped to found the Women's Action Alliance and the National Women's Political Caucus, and co-founded the Women's Media Center. She also co-founded and serves on the board of Choice USA. She was also the founding president of the Ms. Foundation for Women and Take Our Daughters to Work Day.
# # #
03/28/12