William Paterson University To Present "Echoes Of Sinatra" Featuring Steve Kazlauskas on March 23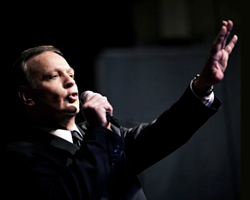 Steve Kazlauskas
Steve Kazlauskas presents his show "Echoes of Sinatra" on Saturday, March 23, 2013 at William Paterson University in Wayne. The show will take place at 8 p.m. in the Shea Center for Performing Arts on campus.
Tickets are $25 orchestra, $20 loge, and $10 William Paterson students (one ticket per student ID). Non-William Paterson students, senior citizens, and William Paterson alumni, faculty, and staff discounts apply. Group rates are available.
"Echoes of Sinatra" is a performance that follows the life of Frank Sinatra. Kazlauskas tells stories of Sinatra's career through songs performed in Sinatra's signature style. The tribute show journeys through the many different places Sinatra performed around the nation, with Kazlauskas imitating him in song and mannerisms.
Kazlauskas was inspired to become a singer after an exchange of letters with Frank Sinatra about his dream to be a performer. He has performed in solo shows and with big bands throughout the United States and Canada. Kazlauskas aims to bring the memory of "Ol' Blue Eyes" to life in his "Echoes of Sinatra" performance.
For more information, call the Shea Center Box office at 973.720.2171 or visit www.wp-presents.org.
# # #
03/19/13