University Nursing Students and Alumni Participate in Second Medical Mission to Dominican Republic During Winter Break
Fourteen University student nurses and nursing alumni participated in a volunteer medical mission to the Dominican Republic from January 8 to 14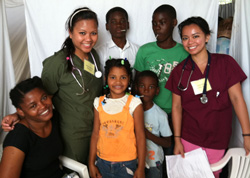 Yjie Eboras (left) and Diana Faye Blaza, William Paterson student nurses, with a family on a recent mission to the Dominican Republic
Fourteen University student nurses and nursing alumni participated in a volunteer medical mission to the Dominican Republic from January 8 to 14 seeking to use their nursing skills to help people in medically underserved communities. Working with an organization called Foundation for Peace, this marks the second year that University students, some of them members of Iota Alpha, a local chapter of Sigma Theta Tau, the international nursing honor society, have taken part in this mission.
"The collaboration between the William Paterson nurses and nursing students on the trip fostered future professional behaviors," says Kem Louie, associate professor, president of the Iota Chapter of Sigma Theta Tau, and director of the graduate nursing program. "The nurses had a responsibility to assess and address the patient's current health concerns with the appropriate medications, treatments and health advice. Health promotion and education is probably the most crucial aspect of the mission for it promotes the long term goal of improved health and an increased autonomy."
On the mission, the volunteers started their days around 7 a.m. in a clinic in the city of San Pedro de Macoris and typically saw approximately two hundred patients suffering from various ailments including fungal skin infections, parasites, malnutrition, diabetes, and hypertension.
Each family that visited the clinic received health kits filled with tooth brushes, toothpaste, soap, wash cloths and hand sanitizer that the students assembled by holding fundraisers and gathering donations.
"I was pleased to serve the local community," says Yjie Eboras, a senior nursing student and member of Iota Alpha. "My goal for the trip was to expand my ability to help others, and enhance my nursing skills for the future. It was a life changing experience that was also very humbling. We as Americans have so much, but the people in the Dominican Republic have nothing yet they don't complain. I feel blessed to be able to share what I learned at William Paterson to help others."
The trip was funded, in part, by the nurses, nursing students, and service scholarships by Iota Alpha.
01/18/12