Pianist Mulgrew Miller and Bassist Rufus Reid Lead Tribute to Martin Krivin, Founder of William Paterson University's Jazz Room Series, on Sunday, February 12
Special concert honors professor emeritus of music who also founded the University's Jazz Studies Program 40 years ago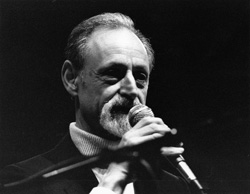 Professor Emeritus Martin Krivin
Martin Krivin founded the acclaimed William Paterson University Jazz Studies program 40 years ago and the Jazz Room series 34 years ago. Krivin passed away in September 2011 and an extraordinary ensemble featuring renowned jazz artists Mulgrew Miller and Rufus Reid will celebrate his life in a musical tribute as part of the spring 2012 Jazz Room Series on Sunday, February 12, 2012, in the Shea Center for Performing Arts on the University's campus in Wayne.
The Martin Krivin tribute concert will begin at 4 p.m. with tickets ranging from $8 to $15. Prior to the concert, featured musicians will be the guests for "Sittin' In," an informal discussion about jazz, at 3 p.m. in room 101 of Shea Center.
Miller, current director of the William Paterson Jazz Studies Program and an internationally known jazz pianist, and Reid, former Jazz Studies director and globally acclaimed bassist, will headline the concert. Also joining in this tribute will be drummer Horacee Arnold; saxophonist Bob Keller; saxophonist David Demsey, William Paterson professor of music and coordinator of jazz studies; trombonist Tim Newman, William Paterson assistant professor of music; and other special guests.
Krivin, a professor emeritus of music at William Paterson, retired in 1992 after 32 years of service at the University. In addition to founding William Paterson's Jazz Studies Program and the Jazz Room Series, Krivin served as executive director of the Wayne Chamber Orchestra.
"Marty Krivin was a great friend, colleague and mentor," says David Demsey, coordinator of jazz studies at William Paterson. "He literally invented our Jazz Room Series as well as our Jazz Studies Program, which was one of the first five degree programs in the nation to concentrate on jazz studies. When Marty hired Thad Jones to be a part of the full-time faculty, we became the first school anywhere to bring a 'major league' jazz star onto the tenured resident faculty; that now is a model for numerous other schools. His mentorship and Rufus Reid's guidance and partnership are still major factors in the building and development of the program in the two decades that I have been here."
Mulgrew Miller is one of the most recorded pianists on the jazz scene, and has been featured on more than 400 recordings. His long career has included recordings and tours with his Trio and his larger group, Wingspan, as well as associations with such legends as Art Blakey's Jazz Messengers, the Duke Ellington Orchestra, Tony Williams, and Woody Shaw. Miller's commitment to jazz education led him to the University's Jazz Studies Program in 2006. Most recently, he was named 2010 Artist in Residence for the Detroit Jazz Fest.
Rufus Reid, one of the premier bassists on the international jazz scene, is also an educator and composer. He has toured and recorded with numerous jazz artists, including Eddie Harris, Nancy Wilson, Harold Land and Bobby Hutcherson, Lee Konitz, The Thad Jones and Mel Lewis Jazz Orchestra, Dexter Gordon, J.J. Johnson, Art Farmer, Stan Getz, Kenny Burrell, Kenny Barron and countless others. He also leads his "Out Front" Trio with pianist Steve Allee and drummer Duduka Da Fonseca. As a composer, he has written for string orchestra, small and large jazz ensembles, concert band, double bass ensemble, and solo bass. Reid served for 20 years as director of William Paterson's Jazz Studies Program and continues to teach, conducting master classes, workshops, and residencies around the world.
Launched in 1978, the Jazz Room is one of the largest and most prestigious college-sponsored jazz events in the country. Performers include renowned professionals who encompass the complete spectrum of jazz, from practitioners of traditional jazz to avant-garde to bebop to swing to Afro-Latin jazz, as well as William Paterson's own student ensembles. The series has won numerous grants from the National Endowment for the Arts and more than 25 years of continuous support from the New Jersey State Council on the Arts for its innovative programming.
Other concerts during the spring 2012 series include composer and bandleader Karl Berger and vocalist Pyeng Threadgill in a performance as part of the International Society for Improvised Music convention on February 18; Cuban jazz pioneer Ignacio Berroa and his band on February 26; saxophonist Steve Wilson with the William Paterson Jazz Orchestra directed by Pete McGuinness on March 4; vocalist Roseanne Vitro on March 11; and Grammy winner Paquito D'Rivera with the William Paterson Latin Jazz ensemble directed by Chico Mendoza on April 1.
Funding for The Jazz Room at William Paterson University has been made possible, in part, by the New Jersey State Council on the Arts/Department of State.
For tickets or more information, call the Shea Center Box Office at 973.720. 2371 or visit www.wplive.org.
# # #
01/18/12