William Paterson Students Meet Billionaire Investor Warren Buffett
Fifteen communication and business majors traveled to Nebraska for the once-in-a-lifetime opportunity
Fifteen William Paterson students studying business and communication participated in the opportunity of a lifetime on January 13, when they flew to Omaha, Nebraska to meet with billionaire investor Warren Buffett, the chairman and CEO of Berkshire Hathaway.
The meeting was arranged by Susan Lisovicz '78, a former CNN business reporter and current adjunct professor in the University's communication department and funded through the Alumni Association Annual Fund. The students participated in an intimate two-hour question-and-answer session with Buffett at the Berkshire Hathaway's corporate offices, followed by lunch at Piccolo Petet's, one of Buffett's favorite Omaha restaurants. Students from eight other invited universities were also in attendance.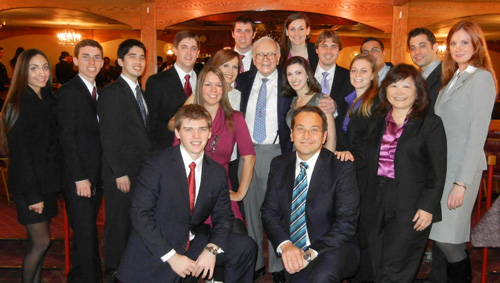 Visiting Warren Buffet (center) are William Paterson students and faculty. (Back row, left to right) Michele Asmar, Brian Schiess, Steve Parsons, Ryan Barckley, Michael Walsh, Shannon Smith, Scott Fischer, Carmello Guarneri, Dan Shakoj and Ania Lamparska-Shanaphy. (Second row, left to right) Lorraine Jugenheimer, Susan Lisovicz '78, adjunct professor, Kristen Pettet, Trisha Stone, and Joann Lee, professor of communication. (Front row, kneeling, left to right) Nicholas Bowman and Michael Frodella.
"To spend four hours in Warren Buffett's company is a very special experience for students about to begin their own careers," says Lisovicz, who has interviewed several times over the years and continues to keep in touch with him. "He was full of insight and funny anecdotes. He's been paring down his schedule in recent years, so these kinds of opportunities are even more precious."
Students with high academic standing in communication and business were invited to submit essays on why they would be interested in attending. The students met twice during the fall 2011 semester to learn more about Buffett and his life and work in preparation for the meeting.
"This was truly a once-in-a-lifetime opportunity for our students," says Joann Lee, professor of communication, who with Lisovicz accompanied the students to Omaha.
"It was an honor and a privilege to meet Mr. Buffett and be able to ask him a question," says Scott Fischer, who is pursuing an MBA. "One of the things that amazed me was how down-to-earth and friendly the most successful investor of our time was."
Ania Lamparska, an undergraduate business major, noted how Buffett "answered questions without sparing any details from his own experiences. He was knowledgeable, patient, and funny. And after the lunch, he posed for pictures with every single person who attended the meeting for almost two hours, which I thought was wonderful."
In addition to Fischer and Lamparska, other students who participated were Kristen Pettet, Shannon Smith, Ryan Barckley, and Steve Parsons, all communication majors; business majors Lorraine Jugenheimer, Michelle Asmar, Brian Schiess, Nicholas Bowman, Trisha Stone, and Michael Walsh; Michael Frodella, a graduate student in professional communication; and MBA students Danny Shakoj and Carmelo Guarneri.
The trip was funded through donations to the Alumni Association's Annual Fund. "We were able to fund the trip by pooling the unrestricted contributions of donors to the University's Annual Fund in a collaboration between the College of the Arts and Communication and the Cotsakos College of Business. Without their generosity, we would have had a more difficult time providing this special opportunity for our students," says Steve Hahn, interim dean of the College of the Arts and Communication.
"It's something they will remember all their lives," says Lisovicz, who says she is thrilled that she could bring this experience to students at her alma mater. "When I was a student at William Paterson, the professors helped make connections that were crucial to my future career. This is a great way for me to pay it forward."
01/11/12