Printmaking Exhibition in Shanghai Features University Students, Alumni, and Professors
Students and alumni of University's printmaking program participate in international show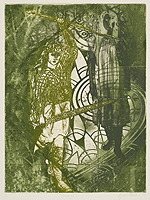 Boudicea by Agnieszka Niedbala '05
More than twenty-four works of art by current William Paterson students and graduates of the University's printmaking program were featured at the Shanghai Liu Haisu Art Museum from October 1 to 13 in an exhibition curated by Zhiyuan Cong, professor of art, and director of the University's Center for Chinese Art (CCART).
"Collision and Equilibrium--American Youth Printmaking Exhibition" was part of the 2011 Shanghai Youth Biannual Exhibition. CCART, the Shanghai Liu Haisu Art Museum, and the Shanghai Artists Association cosponsored the show.
"The goal of the exhibit was to promote young American artists and to cultivate a deeper understanding between the United States and China," Cong says. "This is the first time that we have had so many of our students participate in an international art exhibition."
The students who participated were Jeanette Camacho, Jase Clark, and Anna O'Sullivan. Alumni participants were Raquel A. Foote, Mehdi Hashemi, Alyass Kaufman, Patricia Loftus, Agnieszka Niedbala, Amara Nogee, Patrick Perkel, Rebecca Seidel, Daniel Tivit, and William Wadnicky, Jr. Adjunct professors Jennifer Mahlman and Jill Sluka also exhibited.
12/06/11