William Paterson Students Win Two Awards in National Sales Competition
Thomas Alger and Michael Walsh picked up two of the competition's 16 awards, competing against students from across the country and abroad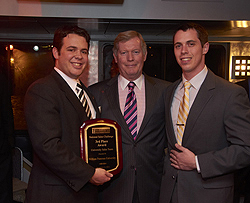 William Healy, associate professor of professional sales, with William Paterson studentsThomas Alger and Michael Walsh
Competing against students from twenty-eight universities across the nation and two foreign institutions over a three-day period, William Paterson University students Thomas Alger and Michael Walsh picked up two of sixteen possible awards during the 2011 National Sales Challenge held on campus from November 9 to 11.
The intense series of selling competitions and workshops were held at the University's Cotsakos College of Business. Alger won third place in the role play competition and he and Michael Walsh represented Team William Paterson and placed third among the universities that competed. The event, one of the two leading sales competitions in the United States, is sponsored by the Russ Berrie Institute for Professional Sales in the University's Cotsakos College of Business.
"The 2011 National Sales Challenge was the biggest since its inception five years ago," says P.K. Kothandaraman, executive director the Russ Berrie Institute for Professional Sales. "Teams travelled from all parts of the country and Europe to compete in what is emerging as a unique and prestigious student sales competition in the country. Senior sales executives and recruiters from national and multinational corporations were on hand to judge the competition and interact with potential hires. For the first time in the competition's history, the U.S. Postal Service participated as an event sponsor as it sought to work with RBI on sales talent. Feedback from participants and companies has been very positive and I expect the 2012 event to be even bigger!"
The competition was designed by the University's Russ Berrie Institute to strengthen the students' sales skills and offer them an opportunity to network with business executives from companies around the country who judged the events and served as sponsors.
Competitions included the speed-selling competition, which requires participants to sell themselves to an employer in under two minutes; and a sales-role play competition, in which students compete in a 15-minute sales call with a real business executive. The competition also features "table-talk," where students in small groups have 20 minutes of in-depth interaction with business executives from the sales profession.
To view a video clip of the news coverage, click below:
11/21/11