Emerging Asian Markets Topic of Korean Counsel General's Lecture
Ambassador Young-mok Kim discussed a range of economic issues during a presentation at the Cotsakos College of Business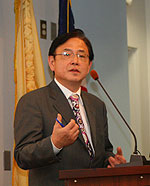 Ambassador Young-mok Kim
Economic challenges and the opportunities of emerging Asian markets were among the topics discussed by Ambassador Young-mok Kim, Consul General of the Republic of Korea in New York, during a wide-ranging lecture held at the University on Thursday, November 10.
Ambassador Kim spoke to more than one hundred students, faculty, and staff at the event which was held at the University's Cotsakos College of Business and included a lively question and answer session.
"The recent signing of the Free Trade Agreement between Korea and the United States will have a big impact on Asia as a whole because Korea is at the center of all major economies," he said.
To view a video clip of the news coverage, click below:
11/21/11