William Paterson University Observes Remembrance Day by Honoring Troops
Students, faculty, staff, and members of the community participated in a national roll call of casualty names of American service men and women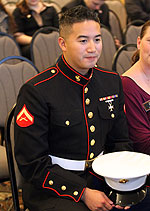 A national roll call of casualty names of American service men and women was at the center of William Paterson's observance of Veteran's Day on November 11.
Students, faculty, staff, and members of the community read the names of the 6,200-plus casualties of Operation Enduring Freedom and Operation Iraqi Freedom, now called Operation New Dawn. The reading of names was done in chronological order and took approximately eight hours.
"We wanted to send a message to our troops who are currently serving that we are with them in mind and spirit, and are awaiting their safe return home," said Sgt. Lynette Butler, the University's coordinator of veteran's affairs.
President Kathleen Waldron, who hosted her annual luncheon for vets and currently serving students during the event, introduced the nationally observed moment of silence at 2 p.m., followed by a performance of patriotic songs by the William Paterson University Gospel Choir.
To view a video clip from this event, go to:
11/21/11