Suicide Prevention Efforts Garner Award
More than two hundred William Paterson community members participated in the May 1 walk, which raised more than $7,000 for suicide prevention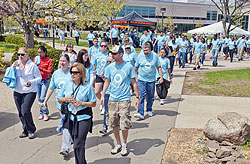 The North Jersey Chapter of the American Foundation for Suicide Prevention presented an award to William Paterson University on October 16 in recognition of efforts by students and staff members to raise money and awareness for suicide prevention during the University's first Campus Walk for Suicide Prevention last May.
Andrew Matcika, a University senior majoring in sociology who is also president of CHOSEN: Gender and Sexuality Alliance, was joined by Francisco Díaz, assistant vice president for campus life; Daisy Rodriguez, counselor; and John McTighe, associate director, Counseling, Health and Wellness Center; and Maribel Rodriguez, assistant director, campus activities and student leadership, to receive the award at the Out of the Darkness Community Walk held in Saddle Brook.
"It was an amazing experience and I am glad I was able to be part of something so important," said Maticka of participating in last spring's walk. "It took a tremendous effort to organize it, and it would not have happened without everyone's participation."
More than two hundred William Paterson community members participated in the May 1 event, which raised more than $7,000 for suicide prevention; half of the proceeds will return to the campus to support continuing programs on suicide and prevention. The event was the first in New Jersey held on a college campus.
"I am extremely proud of this award and its recognition of our student-led effort to commit to a safer campus environment, while enhancing community relations and promoting a positive image for the University," says Rodriguez. "The effort also provided the momentum for students to begin the process of forming a campus chapter of Active Minds, an organization dedicated to awareness and advocacy regarding mental health issues."
Various student groups and University departments participated in the event including Campus Activities and Student Leadership; Counseling, Health and Wellness Center; CHOSEN: Gender and Sexuality Alliance; Student Activities Programming Board; Student Government Association; Peer Health Advocates; Residence Life; Student Development; and the Women's Center.
Initial discussions among students, faculty, and staff about such an event began last fall in response to the suicide of Rutgers freshman Tyler Clementi. "The students' desire to take action went further as they learned about campus walks and were motivated to raise awareness on their own campus about suicide," says Francisco Diaz, assistant vice president for campus life.
Plans are well underway to continue educational efforts, as well as support the University's next campus walk, scheduled for Sunday, April 22, 2012.
10/18/11