Education Expert Speaks as Part of University's Distinguished Lecturer Series
Diane Ravitch, one of the nation's leading authorities on American education history and policy, says that education is at a critical moment in New Jersey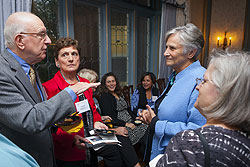 Teresa Rigolio '84 (center) and her husband Joseph speak with Diane Ravitch, and Dorothy Feola, associate dean, College of Education, at the reception prior to lecture
Public education, test scores, and school reform were among the topics under discussion by Diane Ravitch, one of the nation's leading authorities on American education history and policy, during a lecture that was part of the University's Distinguished Lecturer series on October 13. The program was produced in conjunction with the University's College of Education.
Ravitch, who spoke to an audience of approximately 700 guests, many of whom were educators from school districts around the region, commented that education is at a critical moment in New Jersey. Prior to the lecture, Ravitch attended a reception with College of Education alumni.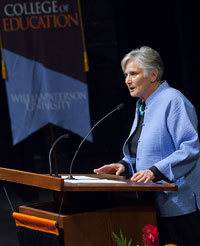 "There is a crisis of disinvestment in American education," she said. "There is little respect for public education. We are talking about children's lives and futures, and the goal should not be that we are raising winners and losers but that we are raising responsible adults. We should do this because we want to be a decent society where everyone has an equal opportunity."
"Education has to prepare everyone to do their best in the world," she continued. "Reformers claim we are in deep crisis, and need to do something, but I would like to challenge that."
Acknowledging that improvement is needed, Ravitch said that free public schools "are the foundation of our democracy," and the major changes in education over the past fifty years ---desegregation in the schools, adopting the practice of not excluding children with disabilities, and adjusting to the wave of immigration from non-English-speaking children---are measured by federal testing programs which can create inequities in the school system.
"Mandatory testing is not always bad," she says. "Test scores should be used to enhance education, and not punish the teachers. The goal should not be to get higher scores, but to preserve, protect and strengthen public education."
10/18/11