William Paterson to Host Remembrance Day National Roll Call on November 11, 2011 to Honor Casualties of Operation Iraqi Freedom and Operation Enduring Freedom
Students, faculty, staff, and members of the community will read the names of the 6,200-plus casualties of Operation Enduring Freedom and Operation Iraqi Freedom, now called Operation New Dawn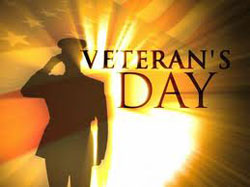 William Paterson University in Wayne, N.J. has joined the nationwide effort to honor American service men and women who died in Iraq and Afghanistan during the past decade by hosting Remembrance Day, a national roll call of casualty names, on Veterans Day, Friday, November 11.
The reading of the names will begin at 8 a.m. and the opening ceremony will begin at 9:30 a.m. in the University Commons Ballroom on campus.
Students, faculty, staff, and members of the community will read the names of the 6,200-plus casualties of Operation Enduring Freedom and Operation Iraqi Freedom, now called Operation New Dawn. The reading of names will be done in chronological order and is expected to take approximately eight hours.
President Kathleen Waldron will introduce the nationally observed moment of silence at 2 p.m., followed by a performance of patriotic songs by the William Paterson University Gospel Choir. The ceremony will also include presentations by the Honor Guard from the 113th Infantry in Riverdale, N.J., and North Jersey chapters of the Blue Star Mothers, an organization for mothers of current service members, and the Gold Star Mothers, comprised of mothers of fallen service members.
The event is sponsored by William Paterson University's Office of Veterans Affairs, Student Government Association, Student Veterans Organization and Montclair State University.
The Remembrance Day National Roll Call is sponsored nationally by the Veterans Knowledge Community of NASPA Student Affairs Administrators in Higher Education. More than 100 colleges and universities across the nation will be participating in this observance.
Also on November 11, in observance of Veteran's Day, the University and Office of the President will host its annual luncheon for faculty, staff, and students who are veterans or actively serving in military. The luncheon will be held in University Commons.
For more information, visit the University's Office of Veteran's Affairs website at http://www.wpunj.edu/veterans.
10/11/11