William Paterson University's WPSC 88.7 FM Airs Special Broadcast on Tuesday, October 11 as Part of National Celebration of College Radio
Rob Quicke, general manager of WPSC 88.7 FM, leads national development of College Radio Day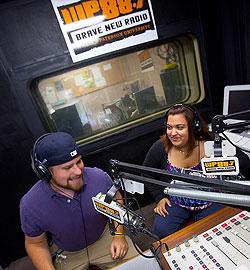 Allan Simon, sports director for WPSC, and Allyssa Hamade, promotions director and music director for WPSC
Rob Quicke, general manager of William Paterson University's WPSC 88.7 FM, conceived and organized College Radio Day on October 11, a first-of-its-kind annual day of broadcasts on WPSC 88.7 featuring live music, news, and "shout outs" from hundreds of college radio stations across the nation.
Open to all college and high school radio stations at no cost, participating stations will be encouraged to offer a showcase of their best programming on that day. Stations also agree to air a 15-minute keynote feature, College Radio in 2011: Its Past, Present, and Future.
Quicke, also an assistant professor of communication at William Paterson, co-founded the event with Peter Kreten, general manager, WXAV FM of Saint Xavier University in Chicago, in response to the growing trend of colleges selling their radio station's licenses. Quicke's primary goal is to convince people to tune in to their local area college radio stations to hear unique programming that they cannot hear anywhere else.
"Here at William Paterson University, we're the national headquarters for College Radio Day. We're trying to raise awareness of college radio, and to remind college administrators that college radio is valuable," says Quicke.
For more information about the event, go to collegeradioday.com.
09/16/11