William Paterson University Celebrates Homecoming on September 24
A carnival, a barbecue, the traditional Homecoming football game, and a magic show by Michael Turco '05 are part of the festivities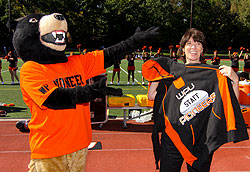 Billy the bear and President Kathleen Waldron
A carnival, a barbeque, a football game, and a magic show are among the festivities as the William Paterson University Alumni Association celebrates Homecoming 2011 by welcoming alumni back to the campus on Saturday, September 24 and Sunday, September 25.
Saturday's events begin with a carnival at 11 a.m. in the practice field on campus. Alumni and their families are invited to join in some old-fashioned fun, including amusements, game booths, popcorn, and cotton candy. Admission is free. A barbeque begins at noon, also on the practice field. Tickets for the event are $10 and are on sale during the carnival.
The Pioneer Football Team squares off against The College at Brockport at 1 p.m. in Wightman Stadium. Admission is $8; $5 for alumni with a membership card, seniors, children under 12, visiting school's students with I.D., and William Paterson faculty and staff; and free for William Paterson students with I.D. A post-game celebration will be held in room 211 in the Machuga Student Center with a cash bar and refreshments.
Other sports on tap include a men's soccer match at 6 p.m. in Pioneer Soccer Park against Richard Stockton College. Admission is free.
Michael Turco '05, who will perform in Shea Center at 7 p.m., caps the day with a magic show. A famed illusionist and magician, Turco has been touring and entertaining sold-out audiences with his illusions, magic and trademark storytelling. Earlier this year, he was a contestant on NBC's popular reality television show America's Got Talent. Tickets are $18 general admission, and $15 for children under 18 years of age, and William Paterson alumni, faculty, and staff. For ticket information, call the Shea Center Box Office at 973-720-2371.
Homecoming 2011 concludes with the Alumni Association Athletic Hall of Fame Induction Ceremony on Sunday, September 25, at 11:30 a.m. in University Commons Ballroom on campus. Six individuals and one team will become the newest members of the Hall of Fame when they are inducted: Stephanie Arrigo '00 (women's basketball), Bryan Graham '06 (baseball), Kristin Clegg Bell '06 (women's swimming), Krista Hinshillwood-Faust '05 (field hockey), Kyle Lubrano '00 (women's soccer) and Lauren Shears '06 (volleyball) will be enshrined, along with the 1996 national-championship baseball team. Tickets for the ceremony and brunch are $25.
An alumni softball game will be held on Sunday, September 25 at 3:30 p.m. This annual event is for William Paterson's former student-athletes, and will be held on the Pioneer Softball Field. For additional information about this game, call Hallie Cohen at 973-720-3016. The Pioneer Field Hockey team will play Gwynedd-Mercey College at 5 p.m. Admission is free.
Homecoming 2011 is underwritten, in part, thanks to the generosity of Liberty Mutual. For additional information about Homecoming events, call the University's Alumni Association at 973-720-2175.
09/13/11