Biology Student Makes a Bee-Line for Research
Working one-on-one with biology professor and mentor David Gilley, this University senior is examing the impact of pesticides on honey bees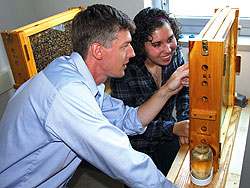 David Gilley, professor of biology, and Ashley Miranda, a senior
CLICK HERE to view video featuring David Gilley and biology major Ashley Miranda
Biology professor David Gilley's lab on the third floor of Science Hall West is—literally—buzzing with activity. Tucked away in a small inner room, he and biology major Ashley Miranda are huddled around one of two specially designed glass enclosed beehives that contain thousands of honey bees. Bees freely access the outside through tubes in Science Hall West's exterior wall.
Gilley, who is New Jersey's only academic bee researcher, is mentoring Miranda in her research project, which investigates the effect of pesticides on honey bees. Undergraduates majoring in science at the University have the advantage of working one-on-one with faculty members on their research, an activity often reserved for graduate students at other institutions.
Miranda, a senior, studies bees exposed to imidacloprid, a common pesticide for crops that attract bees. She examines health, weight, productivity, brood/larvae, and activity within the treated colonies, in comparison to colonies not exposed to the pesticide. Any effect would represent a potential environmental problem and Miranda hopes to determine specific effects of exposure. "In general, I would like to push for more environmentally friendly pesticides," she adds.
Gilley says he enjoys having the opportunity to supervise Miranda's research. "One of the reasons I came to William Paterson is because of the unique opportunity I have to provide undergraduates with research experience," he says. "One-on-one mentorship is important training for the next generation of
scientists because it allows them to develop critical thinking skills and technical expertise within a nurturing intellectual environment."
Miranda says she was intrigued by Gilley's bee research, which examines how pollen-gathering bees report the location of the best food source to their nest mates, and which spurred her to ask if she could work with him. "Science spurs my curiosity. I love it," she says. Her future goal is to pursue medical research dealing with neuroscience and behavior.
09/12/11