University Dedicates Speert Hall and Speert Garden in Honor of Former President Arnold Speert
More than 150 members of the campus community joined together for a ribbon-cutting ceremony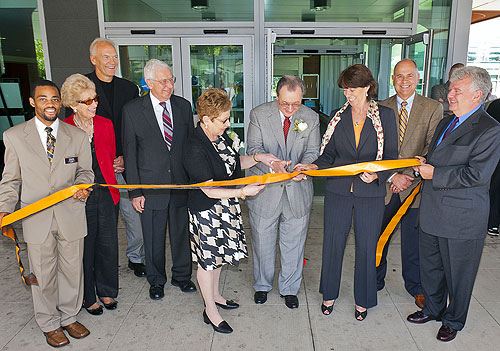 Photo: (from left) Harry Watson, president of the Student Government Association; Anna Marie Mascolo, Stephen Adzima and Robert H. Taylor, all members of the University's Board of Trustees; Myrna Speert; former University President Arnold Speert; University President Kathleen Waldron; William J. Pesce, vice-chair of the University's Board of Trustees; and Vincent J. Mazzola, chair of the University's Board of Trustees
More than 150 members of the campus community gathered on September 9 for a formal dedication ceremony during which Speert Hall and Speert Garden were named in honor of former President Arnold Speert.
Speert and his wife Myrna joined University President Kathleen Waldron, Vincent Mazzola '73, chair of the University's Board of Trustees, and Harry M. Watson Jr., president of the Student Government Association, for a ribbon cutting in front of Speert Hall.
"It is so appropriate to name this building and garden for Arnold Speert," said President Waldron. "These are perfect reminders of what he and Myrna brought to this campus. With these designations, his legacy will be carried forward for generations to come."
"We are thrilled to be here and very gratified that you came to celebrate with us," said Speert. He thanked the Board of Trustees and the Student Government Association for choosing the student-centered locations to name in his honor. "Thanks to you, Myrna and I now join those in the institution's history whose names grace the campus," he said.
The two campus locations were renamed in resolutions passed by the Board of Trustees in recognition of retired President Speert's forty years of service to the campus, including twenty-five years as president. The impetus to name Speert Garden, which is located between Wightman Gym and Hunziker Hall, came from the Student Government Association, which conveyed to the Board its wish to honor President Speert's "commitment and devoted years to William Paterson University and the student body by naming something in his honor." In addition, the Board chose to honor Speert for instilling and nurturing a "culture of selfless commitment, civility, and collegiality among the faculty, staff, and trustees" by renaming Wayne Hall, the University's residential dining facility, as Speert Hall.
09/12/11