New Freshman Connections Program Designed to Ease Transition for First-Year Resident Students
Designed to enhance the living and learning experience for new students, the program includes common housing, specialized programming, and mentoring by peer academic leaders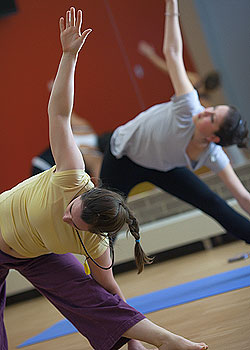 Students taking a yoga class
Beginning this fall, first-year resident students benefit from a new Residence Life program called Freshman Connections, which is dedicated to enhancing the living and learning experience and to encourage first-year students to embrace the many exciting opportunities available to them on campus.
As part of the program, all first-year resident students are housed together in Overlook South, Overlook North, and High Mountain East residence halls, says Becky Fegeley-Baird, assistant director of residence life and coordinator of the program. "We thought this was a good way to help our new students transition to the University and develop relationships with their peers more quickly because they are with other students who are sharing in a similar experience," she explains.
In order to enhance their experience, the students will be mentored by four Peer Academic Leaders, or PALs, who will serve as mentors and role models for the first-year students. As part of their responsibilities, they will staff open study hours in the residence halls, especially during the evenings and on weekends, and will also provide academic programs for resident students on topics such as time management, study skills, and how to register for courses.
Freshman Connections also includes specialized programming designed to encourage first-year students to get involved, interact, and enhance their overall academic experience.
"We have worked collaboratively across the campus with the Student Activities Programming Board and offices from health and wellness to athletics to the alumni association to create a jam-packed calendar of activities to help students get acclimated and feel welcomed to the campus," says Fegeley-Baird says, who notes that a calendar of events for the first six weeks of the fall semester was distributed and posted throughout the residence halls. In addition, a "welcome kit," filled with goodies including laundry bags, flashlights, and an academic planner, was handed out to each new student upon arrival.
To further integrate the students curricular and co-curricular experiences, the E-Radius Lounge in Overlook South has been converted into a smart classroom. "we thought it would be good for programming, but also want to encourage faculty to teach or present programs in a residential environment," says Joe Caffarelli, director of residence life.
Residence life staff plan to work throughout the semester to support students in their academic endeavors. Fegeley-Baird plans to survey students later in the fall to gain feedback about the program as they plan for the spring semester. "Our goal is to set the foundation for a successful experience on campus," she adds.
09/12/11