University Board Member Henry Pruitt Inspires Symposium
This was the third Educational Testing Service program in a four-part series focusing on the achievement of black males.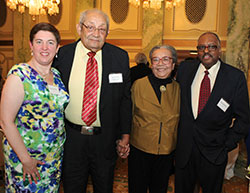 From left: Catherine Millett, senior research scientist, ETS; Dr. Henry Pruitt, member, William Paterson University Board of Trustees; Marian Wright Edelman, founder and president, Children's Defense Fund; and Michael Nettles, senior vice president, ETS.
Henry Pruitt, the longest-serving member of William Paterson's Board of Trustees, provided the inspiration for the symposia, "Black Male Teens: Moving to Success in the High School Years," presented by the Educational Testing Service (ETS). This was the third ETS program in a planned four-part series examining the achievement gap and black males.
The series started in 2011 with "A Strong Start: Positioning Young Black Boys for Educational Success" and continued with "Middle School Matters: Improving the Life of Black Boys" in 2012. ETS, founded in 1947, is the world's largest private nonprofit educational testing and assessment organization.
Pruitt has been an educator for over 30 years serving in many capacities including as teacher, college department chairperson and principal.
09/24/13