More Than 700 Students Compete in 28th Annual Poetry Recitation Contest
Students from more than 50 New Jersey middle and high schools participated in the 28th annual Orlando Saa Poetry Recitation Contest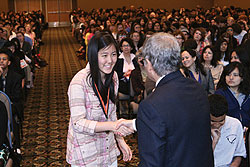 More than 700 students from more than 50 New Jersey middle and high schools participated in the 28th annual Orlando Saa Poetry Recitation Contest on Thursday, May 19 at William Paterson University.
The competition uses the ten languages taught in regional schools: Arabic, Chinese, English as a Second Language (ESL), French, German, Italian, Japanese, Korean, Latin and Spanish. These are among the 17 languages taught at William Paterson. Selected by their schools to compete in one of four levels in each language—beginner, intermediate, advanced or native—students recite an assigned poem for a panel of language specialists from the University faculty and area high schools.
The program began in the University Ballroom with a grand assembly, followed by breakout sessions that were divided by languages and levels. It concluded with an awards ceremony where the first, second and third place winners were announced.
The Saa Recitation Contest provides students with opportunities to showcase their language skills and to learn poetry from other cultures, explains Octavio de la Suaree, chair of the department of languages and culture.
05/19/11