William Paterson University's Center for Chinese Art Celebrates Chinese New Year
Events included a colorful lion dance, traditional Chinese music and a demonstration of Chinese ink painting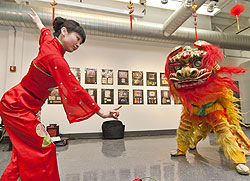 A colorful lion dance, traditional Chinese music and a demonstration of Chinese ink painting graced the University's annual celebration of the Chinese New Year, before a standing-room only audience, on February 17 in the Power Art Center as the Year of the Rabbit was ushered in with ceremony.
The day's events began with a program on the art of Chinese ink painting by Liu Yong, a renowned Chinese artist, photographer, and arts editor from Beijing, China. Performers from the CBA Culture and Arts Center presented a concert of Chinese music, and a lively, traditional lion dance which expresses joy and happiness. Musician Bao'an Cao, in a solo performance, played the erhu, an ancient Chinese string instrument.
Margaret Lam and David Yen, honorary directors of the Center, welcomed the guests, who later enjoyed a traditional Chinese banquet.

Click here to view a slideshow of photos from the event.
The events were sponsored by the University's Center for Chinese Art, the College of Art and Communication, and the Department of Art.
02/18/11