William Paterson University's College of Education Receives National Best Practice in Global Diversity Award
The award honors the integration of diversity awareness into educator preparation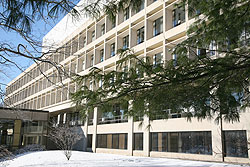 William Paterson University's College of Education has received the Best Practice Award in Support of Global Diversity from the American Association of Colleges for Teacher Education (AACTE). The award honors the integration of diversity awareness into educator preparation and was presented to representatives of the program at AACTE's 63rd Annual Meeting and Exhibits in San Diego.
AACTE's Committee on Global Diversity, which reviewed submissions for the award, selected William Paterson University because of its organic approach to embedding cross-cultural diversity and global awareness themes throughout its teacher education programs that are faculty-initiated, widely spread in their application and sustainable beyond its many initiatives.
"I am thrilled that William Paterson University's College of Education has received AACTE's Best Practice Award in Support of Global Diversity for 2011," said Candace Burns, dean of William Paterson University's College of Education. "Global initiatives are a focus, not only in the college but also throughout the university. This sort of intellectual climate fosters the best in faculty, administrators, teacher candidates and the students that they teach. Global perspectives and respect for diversity are not options; instead, they are part of the fabric of the university."
William Paterson University's approach to promoting meaningful dialogue about diversity demonstrates that mid-sized state universities can pioneer outstanding efforts to disseminate such ideals. Initiatives such as its Professor-in-Residence program, in which the university partners with and within urban school districts, and Skype interactions among public school students, teachers, prospective teachers and a William Paterson University professor in Rwanda, offer education students an abundant variety of thoughtful and deliberate curricular experiences leading to preparing better teachers for culturally, linguistically and socio-economically diverse schools.
"The College of Education and faculty in other colleges, administration within the college and university, and many local professional development school colleagues share the responsibility of teacher preparation," Burns continued. "These individuals, and the teacher candidates whom they prepare, form a diverse and collaborative community, which is dedicated to preparation for a diverse, global society."
# # #
AACTE: Serving Learners
The American Association of Colleges for Teacher Education is a national alliance of educator preparation programs dedicated to the highest quality professional development of teachers and school leaders in order to enhance PK-12 student learning. The 800 institutions holding AACTE membership represent public and private colleges and universities in every state, the District of Columbia, the Virgin Islands, Puerto Rico and Guam. AACTE's reach and influence fuels its mission of serving learners by providing all school personnel with superior training and continuing education.
William Paterson University
William Paterson University is one of the nine state colleges and universities in New Jersey. It offers more than 250 undergraduate and graduate degree programs through five colleges: Arts and Communication, Cotsakos College of Business, Education, Humanities and Social Sciences, and Science and Health. Located on 370 hilltop acres in Wayne, the University enrolls more than 11,300 students and provides housing for nearly 2,300 students.