Political Science Professor Wartyna Davis Named to State Leadership Program
Wartyna Davis has been selected as a member of the Class of 2011 of Leadership New Jersey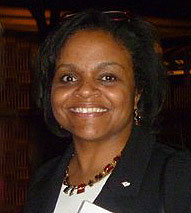 Wartyna Davis
Wartyna Davis, chair of the political science department, has been selected as a member of the Class of 2011 of Leadership New Jersey (LNJ), a prestigious statewide organization of leaders in their professions and communities. Former fellows have included prominent governmental officials, recognized leaders in the public sector and chief executives in private industry.
Approximately fifty leaders are chosen each year from all over the state. They come from diverse backgrounds including business, government, the health care industry, academia, and the non-profit sector. The organization then challenges the leaders to "do more."
Those selected for the program participate in a year-long program in which they are challenged to take on a stronger commitment to make New Jersey a better place to live and work. Fellows represent a wide spectrum of political ideologies and are encouraged to engage in constructive dialogue about the future of the state. Leadership New Jersey also serves as a forum for the exchange of ideas and provides opportunities for the leaders to develop the civic skills they need to solve issues they identify as significant to the state.
Fellows participate in ten seminars throughout the year. This year's seminars include education, human services and healthcare, the arts, and criminal justice and corrections. Participants travel throughout the state to attend the seminars exposing the members to the broader fabric of the state, thus providing them with a better understanding of its needs. Later, the class selects a project based on what they've learned in the seminars and observed in their travels.
"When I look at the names of the previous fellows, I feel honored to be among them," Davis says. "It is my hope that I will represent William Paterson University and the higher education sector well. New Jersey and our nation face many challenges. It is organizations like Leadership New Jersey that give us the best prospect of creating substantive change."
Nina Jemmott, associate vice president and dean, graduate studies and research, is a member of Leadership New Jersey, Class of 1989.
01/24/11