Saxophonist Tia Fuller to Perform in Jazz Room Series at William Paterson University on Sunday, February 13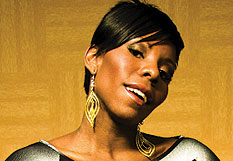 Tia Fuller, a saxophonist, will perform with her group, the Tia Fuller Quartet, to open the University's spring Jazz Room Series on the campus in Wayne, N.J., on Sunday, February 13. Fuller is making her mark as a strong and creative soloist, and has appeared worldwide as part of the all-female band led by pop sensation Beyoncé.
The concert will begin at 4 p.m. in the Shea Center for Performing Arts. Tickets are available in advance or on the day of the performance at $15 standard and $12 for senior citizens, William Paterson faculty, staff and alumni, and $8 for non-William Paterson students. (William Paterson students may attend free of charge.)
Prior to the concert, Fuller will be the guest artist for "Sittin In," an informal discussion about jazz, at 3 p.m. in room 101 of Shea Center. Admission is free to all Jazz Room ticket holders.
Upcoming Jazz Room performances include: trumpeter Jeremy Pelt on February 20; the William Paterson Latin Jazz Ensemble directed by Chico Mendoza with Joe Mosello on February 27; the William Paterson Jazz Orchestra directed by David Demsey with saxophonist Scott Robinson on March 6; and a special Jazz Room on Saturday, March 26 at 8 p.m. featuring Roy Haynes Fountain of Youth Band.
In addition to the Beyoncé Experience World Tour, Fuller has been a part of bands led by Ralph Peterson, Jon Faddis, Rufus Reid, Sean Jones, and Wycliffe Gordon, as well as her own projects including three CDs with her quartet: Pillar of Strength, Decisive Steps and Healing Space. Deeply committed to education as well, she is an alumna of Spelman College and earned her master's degree at the University of Colorado.
Now in its 33rd year of exciting performances, The Jazz Room is one of the largest and most prestigious college-sponsored jazz events in the country. Performers include renowned professionals who encompass the complete spectrum of jazz, from practitioners of traditional jazz to avant-garde to bebop to swing to Afro-Latin jazz as well as William Paterson's own student ensembles. The series has won numerous grants from the National Endowment for the Arts, the Geraldine R. Dodge Foundation, and the New Jersey State Council on the Arts for its innovative programming.
For more information, call Shea Center for Performing Arts Box Office at 973-720-2371.
01/21/11