New Jersey Artist Eileen Foti Presents Solo Exhibit at William Paterson University's Ben Shahn Galleries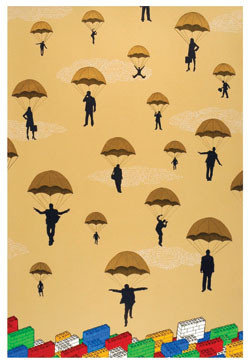 Eileen Foti, a printmaker and assistant professor of art at Montclair State University, will present a one-person exhibit at the Ben Shahn Galleries at William Paterson University in Wayne from January 30 through March 4, 2011. Gallery hours are Monday through Friday, 10 a.m. to 5 p.m. Admission is free. A reception for the exhibit will be held on Sunday, January 30, from 3 to 5 p.m.
Titled "Elusive Borders," the exhibit, on view in Ben Shahn's East Gallery, features a series of Foti's prints that explore the issue of marking time, as well as the collision of one's worlds on a personal and universal level. "Most people would say that they wear many hats with regard to family, career, good citizenship, health issues, and whatever else they do that makes them unique," Foti explains. "Try as we might to compartmentalize our lives, these lines undoubtedly blend and blur, forcing us to navigate unexpected forks along the way."
Long committed to socially engaged art, Foti, in these recent works, rises to the challenge posed by her young children's queries about homelessness and pollution. The prints imitate the conventions of posters, blackboard diagrams, and games, yet they are layered with complex imagery that explores current political issues such as home foreclosures, the Tea Party, and the environment.
Foti was selected to receive the one-person show as the grand prize winner of "American Impressions 2009," a national juried show of works by professional printmakers held at the Ben Shahn Galleries in spring 2008.
An assistant professor at Montclair State University, Foti was the master printer at the Brodsky Center For Innovative Editions at Rutgers University from 1989 to 2004, and the interim education director at Tamarind Institute from 1998-99. Her work is included in the collections of the Museum of Fine Art, Croatia; Moussem Assilah, Morocco; the Museum of Fine Arts, Boston; the Huntington Museum, West Virginia; and the Jersey City and Hunterdon Museums in New Jersey.
Foti has received fellowships from the New Jersey State Council on the Arts and the MidAtlantic Arts Foundation, and has had artist residencies in Morocco, South Africa, Botswana, Thailand, Croatia, Russia, and throughout the Caribbean. She is on the board of advisors for the Artist Proof Studio in Johannesburg, South Africa, and was an advisor to Crow's Shadow Institute on the Umatilla Reservation in Oregon. She is on the board of directors at the Printmaking Council of New Jersey.
Foti wrote and co-produced (with Patricia Piroh) "A Ripple in the Water: Healing Through Art," an award-winning documentary about papermaking and embroidery projects used for poverty alleviation and HIV/AIDS awareness programs for women in rural and urban communities across South Africa. It has been screened extensively at international film festivals and aired nationally on PBS stations across the United States and in Canada.
The exhibit is one of three shows on view concurrently in the Ben Shahn Galleries. The Court Gallery features "Objects of Power: Selections from the Joan and Gordon Tobias Collection of African Art." "American Impressions," an annual juried exhibit of works by printmakers from the across the United States, is on view in the South Gallery. All exhibits are free and open to the public and are wheelchair accessible.
This exhibit is made possible in part by funds from the New Jersey State Council on the Arts/Department of State, a partner agency of the National Endowment for the Arts.
For additional information, please call the Ben Shahn Galleries at William Paterson University at 973-720-2654.
# # #
01/21/11