University Hosts Lunch for Veterans on Campus
Veterans honored for their service on Veteran's Day.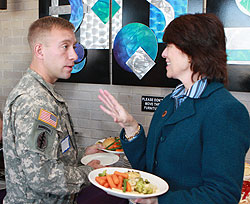 President Kathleen Waldron chats with veteran Sean Murphy at the lunch
Some of the forty student veterans in attendance wore military uniforms, some wore t-shirts and jeans, but all came to honor each other and those who served before them at a lunch held on November 11, Veteran's Day.
Sponsored by the University's newly formed Office of Veterans Affairs along with the Office of the President, the lunch was held in the University Commons. It was meant to bring together all veterans on campus, some who are on active duty while studying, those who have transitioned out of the military and into lives as students through the new G.I. Bill, and those who served in the military and are now faculty or staff.
"We pride ourselves as a University for setting up this program for veterans," says University President Kathleen Waldron. "We want to honor our students who are veterans or currently serving our country. We also want to honor faculty and staff who served in earlier wars."
Sgt. Lynette Butler, coordinator of veterans affairs and mediation services, says that "the University expects an influx of veterans in the coming year as more and more veterans take advantage of the new G.I. Bill" which supports education for vets.
"We currently have approximately 129 that are using the new benefits," Butler says. "We expect that number to increase in the coming year."
Butler adds that the office is meant to offer comprehensive student services. "We are offering a wide range of support services for veterans and military students, both on and off campus," she says. "We will help to streamline the admissions and registration process so that veterans can be more focused on transitioning into college life. Our aim is to take a holistic approach to serving our vets and active military, we will serve those who served."
Bryan Serino, who spent four years in the Navy and is now a full-time student, is the founder and president of the William Paterson Veterans Organization, a student organization.
"The group is intended to serve many functions," he says. "It offers moral support for any one who wishes to come and share with others who may have experienced the same, or similar incidents. It also brings together a group of comrades who are or have been affiliated with the military, or any student interested in the military, for Student Government Association supported events on campus."
11/17/10