The Art of Master Chinese Painter Qi Baishi to be Highlighted During First Anniversary Celebration of University's Center for Chinese Art on September 8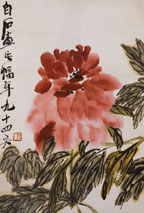 A lecture, a book signing, and a film are among the highlights of events to be held in celebration of the first anniversary of William Paterson University's Center for Chinese Art on September 8.
The Center, created with funds donated by Margaret Lam and David Yen, and located in the Ben Shahn Center for the Visual Arts, supports the University's Chinese art curriculum, and provides students with opportunities to learn Chinese art techniques.
"Over the past year, the Center has held numerous events including a Chinese New Year's celebration, a printmaking workshop by visiting Chinese artists, and a symposium devoted to a discussion of the position of Chinese painting in this century," says Zhiyuan Cong, professor of art and director of the Center. "Through these endeavors, we hope to cultivate a deeper understanding and appreciation of Chinese art and culture."
September 8 events begin with Cong's lecture, "Qi Baishi: A Master of Chinese Painting," and a demonstration of the painting style of Qi Baishi by Liu Yong, from 2 to 3:45 p.m. in the Power Art Gallery.
From 4 to 5 p.m., there will be an anniversary celebration in the Power Art Gallery, and Cong will sign copies of the Center's newly published book Qi Baishi: The Soul of Chinese Painting.
Shanghai Woman, a Chinese film, will be screened in the Cheng Library Auditorium from 5:30 to 7:30 p.m., followed by a discussion of the film by actors Lu Liping, and Sun Haiyan. They are two of the most famous Chinese movie stars. To reserve seats for the film, please email the Center at ccart@wpunj.edu.
All events are open to the public; admission is free. For additional information, please call the Center at 973-720-2799 or visit the website at http://wpunj.edu/ccart.
09/03/10